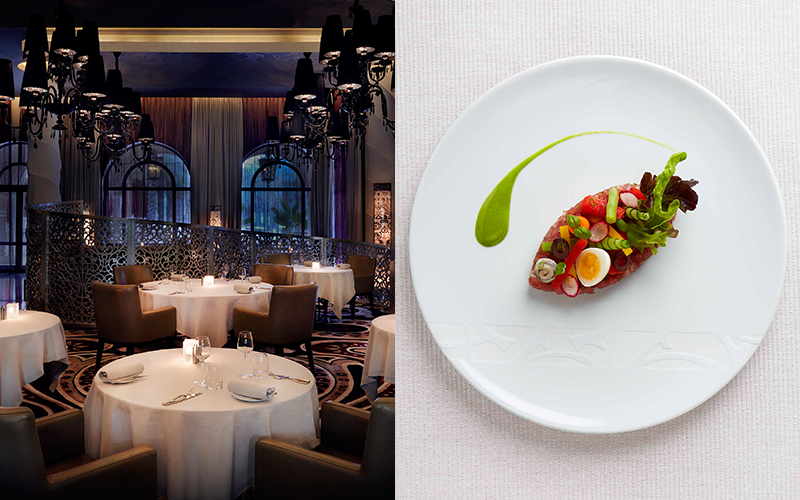 What's is the concept?
Located in one of Dubai's most exclusive, boutique hotel's, STAY (the acronym for Simple Table Alléno Yannick) is a French fine dining restaurant that oozes elegance, refinement and savoir-faire. Considered one of the world's best chefs, Yannick Alléno is recognised internationally for his role at the forefront of innovation in French gastronomy – with three Michelin stars to his name and a 31st place ranking on the World's 50 Best Restaurants 2017 list for his restaurant Alléno Paris. Although he's not always present at STAY, his team ensure culinary and service standards are kept world-class.
With indoor and outdoor seating, STAY is beautifully decorated with black crystal chandeliers, rich tones, vaulted ceilings, gleaming silverware and pristine white table cloths. The spacious venue ensures privacy and intimacy, lending itself as the perfect venue for sharing a romantic occasion with your other half.
What are the food highlights?
Open for dinner, the menu at STAY combines traditional French technique with contemporary ideas. In addition to à la carte, seasonal tasting menus are a regular occurrence here, showcasing premium ingredients like white truffle and foie gras at a set price. During our visit, we chose from the main menu.
The experience began with a delightfully fresh dish of king crab salad with frothy green pea cream and onion emulsion, followed by my favourite dish of the evening, a langoustine and caviar tartlet with lemon butter sauce. The tartlet's pastry was beautifully light and not too thick. Inside, the pressed langoustine presented as a meaty filling and complemented wonderfully with the salty caviar taste and subtle lemon butter drizzled delicately atop – divine!
For mains, as per recommendation from our server, I had the restaurant's signature dish of succulent Black Angus beef tenderloin 'Café de Paris', which came served with pommes frites and black pepper sauce, while my dining partner enjoyed a dish of poached wild turbot with foie gras, sweet and sour turnip and beef jus, both cooked and plated with skill and attention to detail.
Dessert at STAY is quite the occasion for those with a sweet tooth, as a unique Pastry Library in the main dining room allows guests to sample a range of flavours at the interactive counter, while the chef prepares dishes in front.
Served to the table, we enjoyed Périgord chestnut tuiles that were delightfully crispy, fine and paired well with the Cognac jelly and moorish creamy filling – all topped with gold leaf, because this is Dubai after all.
How was the service?
The team at STAY are welcoming and refined. Service is attentive, yet discreet and unobtrusive, always keeping it classy and professional.
The bottom line:
STAY proves that fine dining need not be pretentious and stuffy. Surroundings are comfortable, romantic and simply elegant. Whether it be for a special occasion with date night with a loved one, or with a select group for a high-quality dining experience, the restaurant is ideal for those looking to share a memorable evening. Before dinner, head to 101 Dining Lounge and Bar at the hotel's private marina for an aperitif while the sun sets over the water – it's a blissful sight.
Details: Priced at around Dhs400 for three-courses, without beverages. For more information or to make a reservation call +971 4 4401030, e-mail restaurants@oneandonlythepalm.com . For more infomaiton visit STAY by by Yannick Alléno.