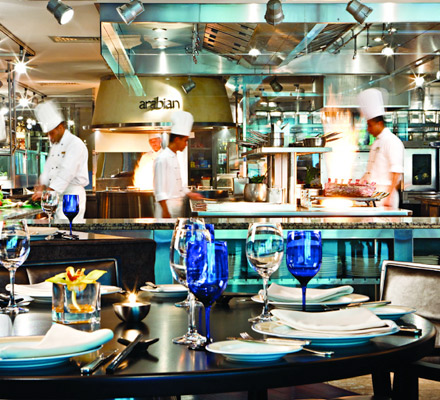 What it's like: When it comes to decadent Friday brunches, there's plenty of choices in our city. However, when it comes to customisation of dishes, and variety of cuisines with themes to match each, then Spectrum on One's brunch is the place to be!
As soon as we entered the restaurant, we were given a guided tour of the different live cooking stations which allowed me to make a mental note of my picks – the Japanese station and cheese room! The restaurant was redolent with the aromas of spices from various cuisines. We started our meal with eggs Benedict and roasted vegetables (artichokes, mushrooms, peppers) – which were packed with flavour in every morsel – all washed down with bubbly, naturally. The Japanese station was our next stop and we couldn't wait to try out the sake, maki rolls, tempura selection with prawns, vegetables and shrimp, and teppanyaki – all of which were made to perfection. The Asian station offers everything from fresh Thai salads to freshly made dim sum. The brunch also offers an outstanding selection of Mexican, Indian and a roast station for traditional English offerings such as roasted leg of lamb, Yorkshire puddings and slow-cooked beef. My dining partner tried the lamb, and was amazed at how succulent the meat was. I decided to make my way to the fresh seafood station to try the steamed lobsters and fresh oysters, which I splashed with hot sauce and lemon, before devouring in minutes. For dessert, I'd had my eyes on the Eton mess – which has its own station! – and tried the lemon meringue with berries version, which turned out to be a fruity delight with a hint of citrus. Although full, we couldn't resist the sticky toffee pudding, so decided to share one – I can honestly claim it was one of the best I've ever tasted.
If you want to go: From Dhs345 per person (soft drinks), Dhs575 for bubbly brunch. Call 04-3325555.
Best for: A big group, with something to suit all tastes
– Nicola Monteath