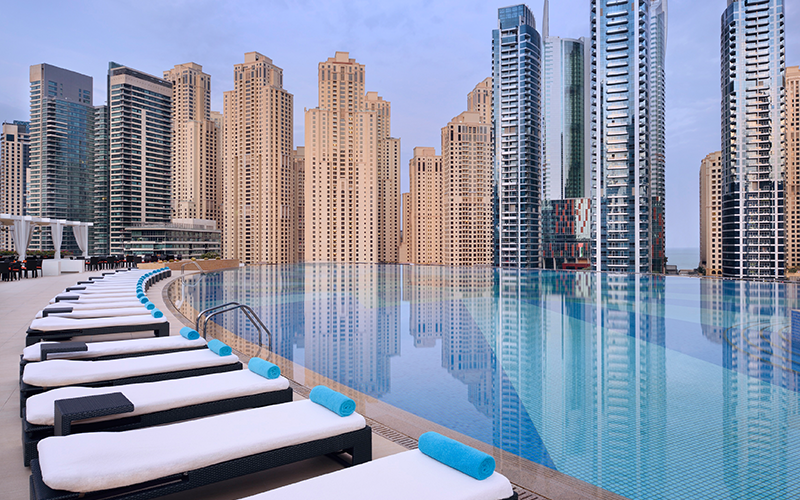 What's it like?
Perched idyllically on the fourth floor of Address Dubai Marina, Shades is a stylish rooftop venue complete with large infinity pool and children's pool, lounge, outdoor seating and chill-out cabanas. Shades in an all-day outlet, perfect for spending the day poolside for lunch, or delighting in sundowners as the sun sets over Dubai Marina, followed by a relaxing dinner under the stars. It's a gorgeous little oasis in the midst of the city, offering relaxation, rejuvenation, refreshing beverages and great food to snack on throughout the day. The pool is cooled and acts as a great relief from the summer heat – it's a decent size too, so if you're looking for a place to stretch your swimming legs, here's a superb place to do so.
Before 1pm, the atmosphere is mellow with soothing sounds, but as the afternoon goes on a DJ and live saxophonist joins the deck to entertain. It's lively, but not crazy beach club lively, so don't worry about it getting too much – it's all very energising and simultaneously allows you to chill out.
What are the food highlights?
Shades successfully manages to offer a high-standard of food, whilst keeping it poolside-friendly. There's a range of options available – all inspired by cuisines from the Mediterranean to the Far East. Whether you're looking for something light to snack on, or something a little heartier, the offering is all fresh, light and easy to eat whilst sitting on your sun lounger or cabana. There's also many items catering to the health-conscious diners. On the à la carte menu, choose items from sections including snacks, greens, grains, classics, pizzas and pastas. Not forgetting those with a sweet tooth – there's desserts, and an ice cream cart, ideal for enjoying to cool down under the sun. Bites we'd recommend are the large tempura prawns, which are lightly coated and perfectly crispy, they make for great finger food and come served with a vibrant wasabi mayonnaise dip. The chicken quesadillas are perfect for sharing (or enjoying by yourself) – the bread is nice and light and the filling is flavoursome and punchy. The Shades club sandwich is a little more filling, but utterly delicious, stacked with succulent thyme and garlic chicken breast, turkey bacon, fried egg, tomato compote and cheddar cheese. There's also grills offering Arabic favourites including lamb chops, shish taouk, shish kebab, and lamb kofta served with hummous and garlic dip.
To complete the experience, shisha is also served daily from 6pm to 1am.
How was the service?
Staff here are on the ball and never leave you awaiting refreshments. Each sun bed / cabana is equipped with a handy button, which can be pressed when attention is needed. When you're not enjoying sips or bites, the team visit regularly to offer refreshing cold towels and ensure your having a pleasant experience.
The bottom line:
A fantastic spot to enjoy a day in the sunshine comfortably with friends and family.
Details: Enjoy full day access to the infinity pool at Shades for AED 150 and get AED 75 as credit to spend on food and beverages. The offer is available throughout June and August. The pool opens at 9am till 9pm, while Shades remains open till 1am. Call 04-4367777 or e-mail dine.tammh@theaddress.com.