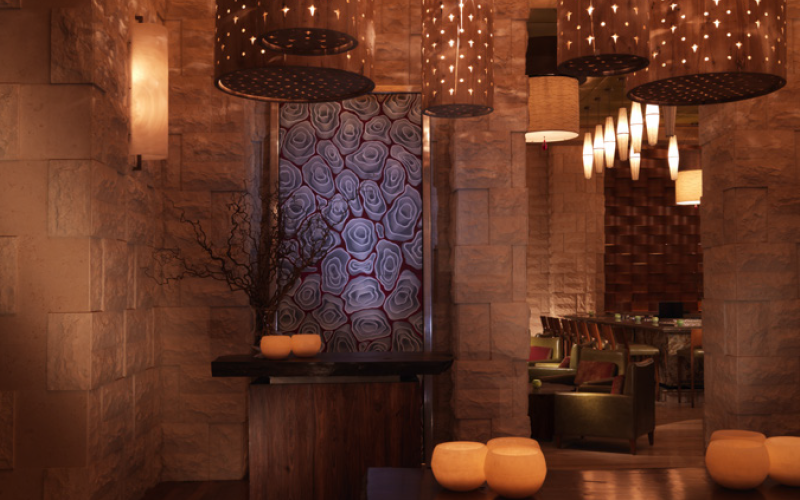 What's it like?
Behind two inviting, large wooden doors lives Seafire, a modern steakhouse that offers a roomy restaurant setting ideal for group dinners, plus a separate bar area for pre- and post-dinner drinks. The restaurant is big and boasts impressive high ceilings, however, still maintains a cosy ambiance with dark hues of red and brown, married with elements of wood. Adding to the atmosphere is an open, theatrical kitchen where you'll see chefs behind the grill, plus there's a walk-in grape cellar which stores more than 4,000 bottles from around the world. On a Tuesday evening the restaurant is near to full and has a great vibe about the place – it's relaxing and warm yet alive with sounds from the kitchen and fellow diners enjoying themselves. We hear Seafire's Jazz Night every Monday is a great time to visit, when a live band performs from 8.30 – 11:00pm.
What are the food highlights?
The menu here spoils you for choice and recently underwent a revitalisation! From hot and cold starters, oysters, salads and soups, chef's signature dishes, options from the sea, plus experience platters – there is something for everyone, and that's before we even get to the mouthwatering beef selection. To start, must-try items include the savory short rib doughnuts, and the seared scallops with mushy mint peas, pickled onion and smoked veal bacon crumb, which was absolutely delicious. As much as I loved starters, my anticipation eagerly awaited a nice, juicy steak and I must say, Seafire's range of beef is every steak lover's dream! From John Stone and Master Kobe, to US Black Angus and Atlantis's very own 'certified Atlantis' signature cattle from Australia – the selection on offer is divine. All prepared to order on a custom wood-burning grill, we went with the John Stone tenderloin and bone-in rib-eye, both cooked to medium-rare perfection. Portion sizes are extremely generous here, but if you manage to save room for an indulgent dessert (which I recommend you do), I'd go for the oozing chocolate fondant of goodness. Plus, the Seafire rocky road chocolate freak shake is very much on trend, and of course, perfectly instagrammable!
How was the service?
One thing that stayed with me most about this dining experience was the service. Every single member of staff we encountered here was smiling, friendly and interactive. They offered genuine advice and really went above and beyond to make you feel welcome.
The bottom line: Ideal for an indulgent meal with your other half or a group. Newly-appointed chef de cuisine, Raymond Wong, previously of Al Qasr Jumeirah's old MJ's Steakhouse, does a fantastic job of taking steakhouse classics and giving them an innovative, contemporary twist.
Details: For more information visit Seafire steakhouse . Around AED 420 for three courses without drinks. For reservations call 04-4262626 or e-mail restaurantreservations@atlantisthepalm.com