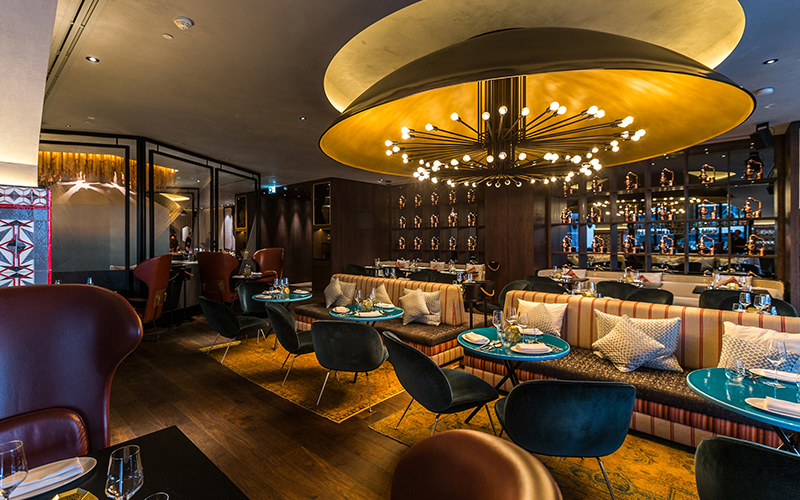 What's the concept?
A new gem has opened on the waterfront of Dubai Marina serving up beautiful Anatolian classics with a contemporary twist. It's an enchanting venue comprising a restaurant, bar, lounge and an idyllic al fresco terrace – making it the ideal one-stop spot for spending an evening. Meaning 'dream' in Turkish, Rüya, is what it says on the tin. It's chic yet rustic interiors boast character and whisk you away to a scene overlooking the Bosphorus – down to the plates and cups there's a lot of Turkish charm here.
What are the food highlights?
Led by Executive Chef Colin Clague, who has built up an impressive culinary reputation for his leading roles at JeanGeorges, Zuma, and Qbara (and many others), the kitchen does not disappoint. His menu puts starters on hold, while you choose from the 'to ponder', lighter options to begin. We enjoyed a delicious roasted red pepper, tomato and walnut dip, which came served with freshly baked bread, plus a playfully served selection of crudités with red pepper yogurt. Starters are split between hot and cold – we tried the seabass sashimi with mustard, lemon and shaved radish, plus the marinated and grilled octopus with chili, borlotti beans and capers – a favourite of the evening for me (pictured). The portion was plentiful, extremely meaty and very tender. A beautifully unique dish. For mains, we shared whole grilled seabream with a spiced herb rub, which was extremely flavoursome, then lamb cutlets with an interesting side of smoky eggplant, plus a Rangers Valley grain fed steak served with asparagus and Antep pistachio butter – incredibly moreish. If you have room, the desserts are definitely a credit to Turkey's traditional sweets. They come presented to perfection and practice a modern interpretation of Turkish favourites.
What's the atmosphere like?
All in all, this gorgeous venue is a breath of fresh air to Dubai's dining scene. It offers high quality food and warm hospitality in a casual and relaxed atmosphere at very reasonable prices – some of the most affordable I've seen of late. A great location for unwinding with your other half or a small group of friends.
Details: Around AED 300 for threecourses per person, excluding drinks. Address: Ruya, Grovesnor Business House, Dubai Marina, Dubai, UAE. For more information click here.