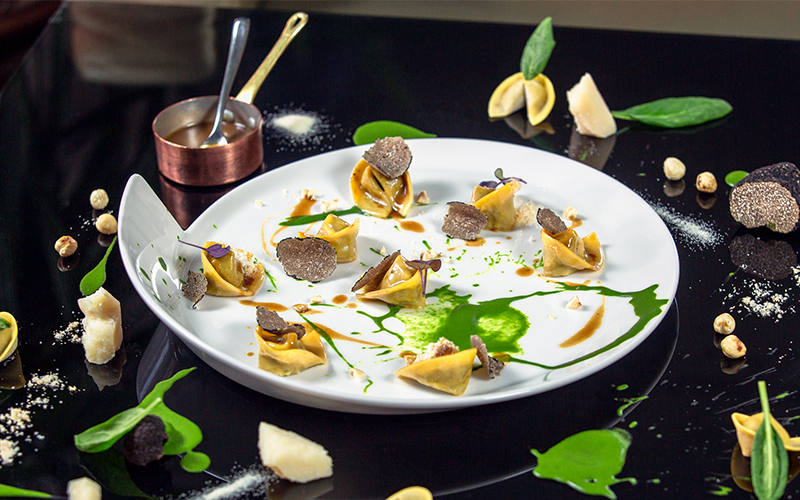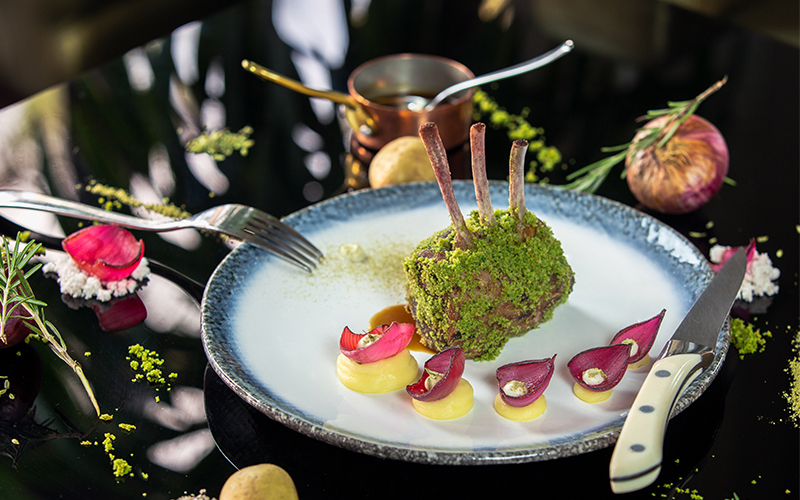 What's it like?
Having recently undergone an extensive renovation this summer, Roberto's in DIFC has now re-opened to unveil its beautiful new interiors and refreshed classic Italian menu.
A resident in DIFC for more than seven years, Roberto's has always been a firm favourite within the city. It's an elegant and classy, white tablecloth type of restaurant – without the stiffness. The ambiance is relaxed yet offers a fantastic buzz fueled by tunes from the DJ, an open kitchen and up-market bar area.
The elegant and contemporary restaurant offers both indoor and outdoor seating, with two separate terraces, each providing magnificent views of Burj Khalifa and Dubai's glittering skyline. Inside, classic marble and dark wood furnishings create a cosy yet luxurious setting.
What are the food highlights?
Both Roberto's in Dubai and Abu Dhabi are led by Group Executive Chef, Francesco Guarracino, who in-line with the refurbishment, worked on creating delicious new additions to the menu over the summer.
The menu explores options including insalate, zuppe, pizza, antipasti, crudo (from the live raw bar within the restaurant), paste, risotto, pesci, carni and finally, dolci & formaggi.
Dishes of the evening for me included chef's new prawn tartare dish 'Stella Di Mare', served in the shape of a starfish – the subtle flavours of the prawn were brought to life with zesty flavours of lemon gel, fruity peach and nuttiness from pistachio. Overall, the dish was light, utterly delicious, and didn't leave you feeling full (thankfully, as there's so much more culinary excellence to come). The vitello tonnato – sliced, slow roasted pink veal with tuna caper sauce and celery heart, is also fantastic to begin with.
Moving on to the mid-course, don't miss the braised beef-stuffed agnolotti with spinach and broccoli puree, the dish is not only presented beautifully, but combines such fresh, well-combined flavours.
Next up, the slow-cooked roasted octopus is cooked tenderly and marries modern techniques with Ancient Roman ingredients like artichoke and cacio e pepe sauce, made of Pecorino cheese, milk and black pepper.
For main, the slow-braised Canadian veal melts in the mouth and is accompanied with a variant of jus and puree, including sage and polenta.
Bring the meal to an indulgent close with Roberto's very own homemade gelati – the hazelnut and pistachio flavours are to die for (incredibly delicious!).
How was the service?
There's Italian charm here – and it helps that quite a few of the front of house team are native to Italy. They're all on the ball and operate like a well-oiled machine, providing attentive, but not in-your-face service.
The bottom line:
Overall, this is a fantastic spot to spend an evening with your other half for a special occasion, or with a small group of friends for a fantastic meal. After dinner, venture into Roberto's bar area, where you'll find seasoned mixologists and a DJ on the decks – it's an all-rounder for the perfect evening out.
Or, if you fancy dining during the day, Roberto's also offers a great value-for-money Business Lunch priced at AED 95 for 2-courses or AED 125 for 3-courses. Available Sunday to Thursday, 12pm – 3pm.
Details: For more information or to make a reservation, call 04 386 0066 or visit robertos.ae.