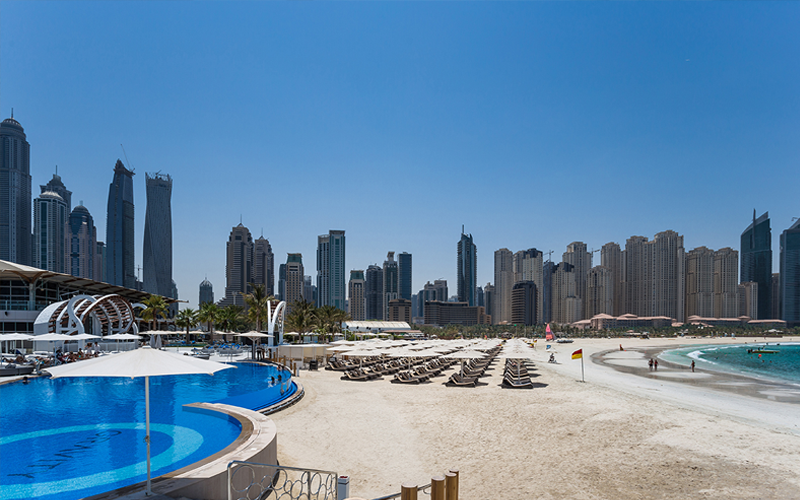 What's it like?
Set beachside overlooking the entire stretch of JBR, Zero Gravity combines a restaurant, lounge and bar – spread across a two-story indoor venue, around a pool and along the beach. As host to various brunches, beachgoers by day and revellers by night, it's an impressive venue. Midday, the atmosphere is relaxed and uplifting, with the latest tunes being played by an international DJ in the background and as the afternoon goes on, the vibe gets a little livelier around the pool. I'd recommend opting for a bed on the beach if you want to keep it chilled.
What are the food highlights?
Go for items off the a la carte menu and have them served to your bed or head to the restaurant seating area (charged per dish), or enjoy an array of grills and international bites from the varied cooking stations. From the menu, highlights include the sushi and sashimi platter – very freshly prepared and including all the favourites. The Cordon Bleu pizza is a great dish to share, topped with light cream cheese, crumb-fried chicken, turkey ham and cherry tomatoes – the crust is light and thin too, so you'll not feel bloated in your swimwear. From the buffet, there's everything from shawarma and curry, to mac n cheese – great for nibbling on throughout the afternoon.
How was the service?
The team were extremely friendly and always quick on hand if you needed something, without being intrusive.
The bottom line:
A great spot to hang-out with friends in the sun on a Saturday afternoon, and at really reasonable price for six hours unlimited F&B and a spot on the beach.
Details: 12-6pm each Saturday. AED 199 for ladies and AED 249 for men. Visit Zero Gravity for more information.