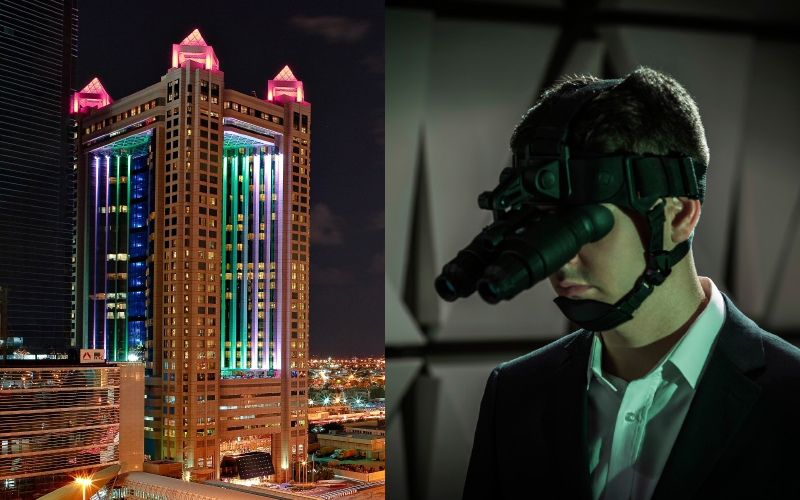 What's it like?
If you're looking for a dining experience that shakes things out of the ordinary, dining in the dark (pitch-black) at Noire is definitely one of the most unique culinary adventures I've been on. It all begins at a reception outside of the restaurant, where you gather with other diners. The team requests that everyone participating arrive at the same time, to minimise distribution to lighting whilst in 'the dark room'. Here, night vision equipped waiters provide a briefing of what's to come and then proceed to take guests in small groups to the dining room. With hands on my partner's shoulders in front of me, we're led by our waiter to the table.
At this point, I must admit I'd expected there to be a glimmer of light in the room, or at least be able to make out shadows, but it was truly pitch-black and I couldn't see a thing. Feeling quite giddy and excitable about the whole process, I feel around to find my chair before sitting (it's harder than it sounds). Once seated, momentary panic set in for me – where my dining partner on the other hand couldn't stop giggling. For the first time in life, I'd completely lost my sense of vision, and to begin with found it all a bit unsettling. This quickly changed once the food arrived. The guessing game then begins as a dish sits in front of you. Firstly you have to locate it, successfully scoop food onto your fork (I had a fair few spoons of nothing – again, it's harder than you think), and then it's over to your taste buds to guess each ingredient on the plate. Once you've polished dinner off, you're led back into the reception area where you can see the dishes you've eaten. You can also put on a pair of night vision goggles!
What are the food highlights?
When it comes to food, while I can tell you that each of the three dishes were wonderfully flavorsome and versatile, I can't say much more. The whole desire and objective behind 'dining in the dark' is the fun of guessing what you're eating. More than any other dining experience, Noire takes your senses of taste and smell on an adventure. You may even find yourself trying and liking things you perhaps wouldn't usually have eaten.
How was the service?
The service team at Noire were incredibly helpful. During my moment of feeling unsettled, they were on hand to make sure I felt reassured and at ease in the dark.
The bottom line:
A fantastic dining experience to take you out of your comfort zone. Somewhere to head for an exciting date night with your other half, or with a group of friends to celebrate a special occasion and enjoy a few laughs. We were informed that there's also been a few proposals at Noire. Imagine the lights turning on and your other half being down on one knee – you'd never see it coming, literally!
Details: AED 325 for three-courses with grape pairing. Call 04-3118316 or e-mail dbi.fbconcierge@fairmont.com.