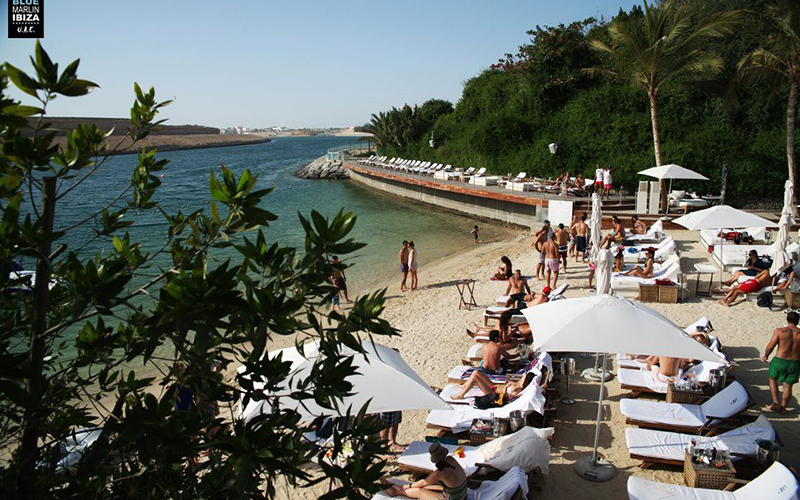 What's it like?
Most commonly known as a successful party spot, this waterside venue takes things down a notch on Saturdays. Boasting a chilled out, Mediterranean atmosphere, the beach club makes you feel much further from Dubai than it actually is – a great daycation escape. With music played by global DJs and performers, you're sure to be singing along while catching some rays.
What are the food highlights?
Food is served to your table (if seated on the restaurant's terrace), or to your sunbed on the beach. From a live BBQ station, you'll receive the likes of succulent beef skewers and mini burgers (very spicy, I thought), plus and personal tray offering a selection of sushi, beautifully baked camembert with crunchy toasts, freshly grilled corn on the cob, tempura
vegetables, scallop salad, and more – all of which are refillable upon request. In line with its Spanish roots, to drink you'll find plenty of sangria, however, can order grape by the bottle too.
How was the service?
Service was very attentive and all staff members were well versed on the food and drinks menu.
The bottom line:
Whether you're looking for a relaxing, yet upbeat place to celebrate a birthday with a group of friends or finish the week of with your other half, this venue ensures an afternoon of fun in the sun. The only downfall was finding transportation back to Dubai post-brunch. I'd recommend scheduling an Uber or Careem, as the private taxis waiting outside come with an expensive price tag. Blue Marlin also offer a safety driver service with 48-hour notice.
Details: Priced at AED 275 per person (restaurant seating, 1-3pm and 3.30-5.30pm) or AED 295 (beach seating, 2-4pm), or AED 550 with French bubbly for Saturday Brunch. e-mail reservation@ bluemarlinibiza-uae.com. For more information visit Blue Marlin Ibiza- UAE