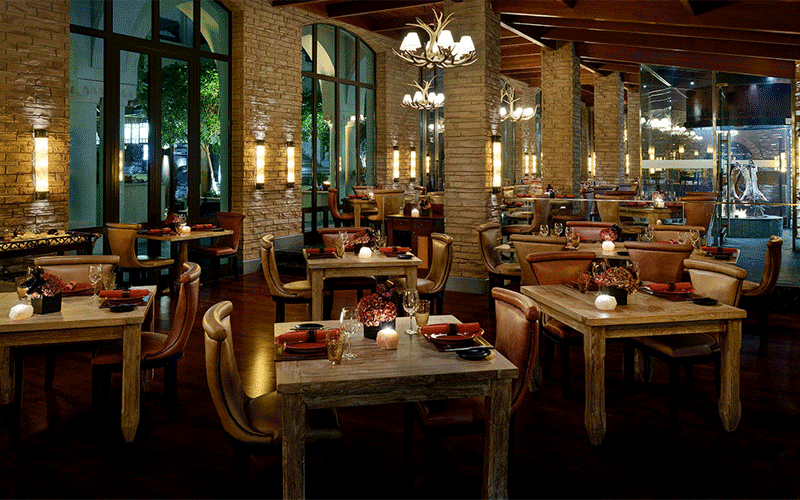 What's the concept?
In South America, 'Asado' is a colloquial term for barbecue, but don't let the name deceive you: Asado in Downtown Dubai is very much a fine dining restaurant. The restaurant has an Argentinian focus, and includes plenty of delicious, traditional South American meats, (watch out for the baby goat on a spit displayed behind glass, as part of the open kitchen)
What's the food like?
The new menu that recently launched includes plenty of Argentinian classics, along with some newer dishes. There's a slow cooked rabbit and mushroom stew for starter, along with a wagyu beef carpaccio with balsamic reduction. For mains, the best option is to choose beef from the Argentinian pamas (the region in the country famed for it's fertile farmland) and the delicious baby goat if available (this tends to sell out fast!) Don't be afraid to bring pescetarians to the restaurant either, there's a great selection of seafood on offer, including a Chilean sea bass with squid ink and a tasty salmon cerviche, created to an equally high standard.
How was the service
The service was impeccable. Our waiter Mark, was on the ball and knew the menu inside out. He could chat easily about drinks that worked well with the menu, and explained a little about the cultural context of different dishes. He also recommended to sit outside for dessert (which is well worth doing if tables are available) to enjoy the great views.
What was the atmosphere like?
BBC Good Food Middle East visited the restaurant mid-week and it was pleasantly busy. There was a live Argentinian band playing (and happily, at a volume that you could still enjoy the conversation of your dining partner without having to raise your voice). Asado is one of the few restaurants in the city where the indoor and outdoor seating is equally pleasant: if you choose to dine indoors, most seats have a fantastic view of the theatrically designed open kitchen, whereas those sitting outdoors get some of the best views in Dubai of the Burj Khalifa.
Details: Around AED 400 pp without drinks, open daily 7pm-11.30pm. To book, email dine@thepalace-dubai.com or call +971 4 428 7888. For more information, visit Asado