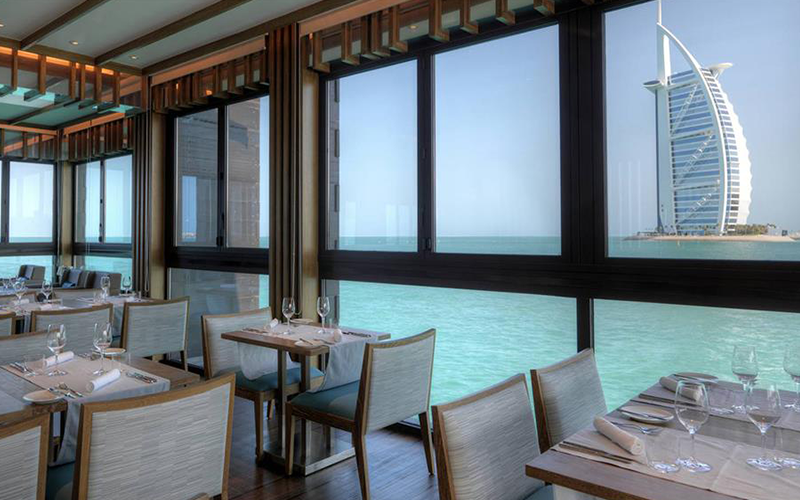 What's the concept?
Pierchic has recently gone through a few changes in the kitchen. Including the appointment of new head chef Head Chef Paolo Bellamio in April this year. One thing that hasn't changed however, is the incredible design structure. The restaurant is situated at the end of a 100-metre jetty, on stilts in the Arabian Gulf. During the cooler months, Pierchic's large windows are open, allowing you to enjoy the sound the waves lapping against the restaurant whilst you eat. Regardless of the time of year, Pierchic offers some of the best views of the Arabian Gulf and the Burj Al Arab in Dubai.
What's the food like?
Bellamio's new menu focuses heavily on seafood, and is one of the few in the city to champion where the ingredients have been sourced from. Standout dishes from the a la carte menu include the Alaskan king crab starter, with white sturgeon caviar, palm heart and marie rose source. The delicious "Glacier 51" Chilean seabass and the Atlantic sea trout, served with beetroot, filo pastry and dill sour cream. Over the summer this year, the restaurant is also offering an exclusive "shellebration" menu focused specifically on European seafood.
How was the service?
The serving staff were on the ball, and could easily discuss dishes on the menu, and recommend drink pairings. Towards the end of the evening, the service became slower. According to the restaurant, there was a large table in the restaurant which was affecting kitchen time and service.
What was the atmosphere like?
BBC Good Food Middle East visited midweek, and the restaurant was busy with a well-heeled crowd. Our tip: if the weather isn't too hot, get there early and stop off at the restaurant's bar situated half way down the jetty for sundowners. It offers the same panoramic views as the restaurant, yet drinks are a fraction of the restaurant price between 6pm-8pm.
Pierchic– contact details:
Dinner costs around AED 500 per person without drinks. For more information, visit Pierchic.