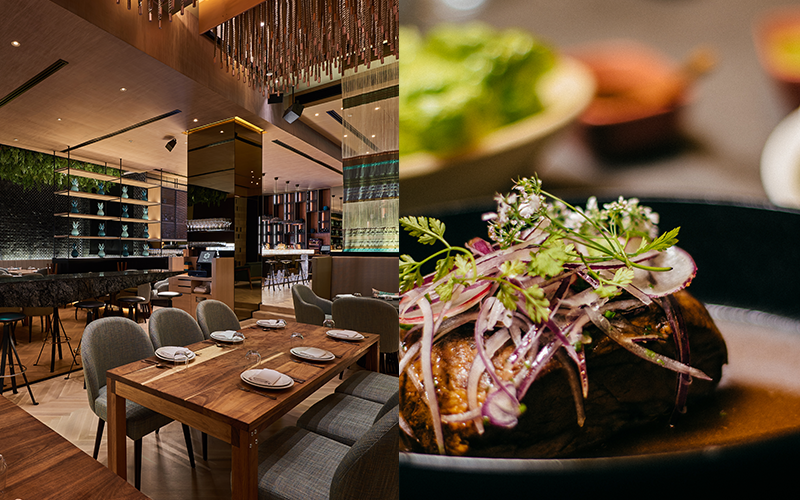 What's the concept?
Bringing modern Mexican cuisine to life in DIFC, Peyote – named after a small cactus native to the Chihuahuan Desert – is a newly opened restaurant which strays from the norm that's usually seen at Mexican eateries. Brainchild of Eduardo Garcia, the famed chef from one of Latin America's top 50 restaurants, Peyote Dubai is an import from London's Mayfair. The restaurant boasts individuality and presents diners with a contemporary twist on the flavoursome cuisine, and simultaneously its interiors. Designed by famed Mexican architect Javier Sordo Madaleno Bringas of Sordo Madaleno Arquitectos, Peyote boasts sleek, minimalistic décor, with beautiful use of greenery, wood, stone and marble. We visit the restaurant on a Saturday night and the scene is quiet to begin with, however, picks up to a nice lively yet relaxed tempo as the evening goes on – particularly in the bar and lounge area, which sees people popping in for drinks and bar bites (guacamole and homemade tastadas are a must!).
What are the food highlights?
Led by executive chef Alexander Stumpf, who previously spent over seven years at Zuma, the pass is viewable from the dining room – a touch I believe speaks volumes about a kitchen team's control and professionalism, which Peyote has already mastered. His menu is split into various sections, including snacks, salads, crudos, totadas, tacos, quesadillas, meat, fish, sides and desserts – it's quite the selection, but don't worry, it's not as overwhelming as it may sound. The menu is designed to be shared, and I'd highly recommend doing so as there's a fantastic variety of dishes to be tried here – and as a bonus, a large proportion of Peyote's dishes are gluten and dairy free. Starting with my favourite dish of the evening, the yellow fin tuna totasta with salasa macha and guacamole was alive with flavour and varied texture, while the ceviche blanco of diver scallop with young coconut aguachile and cilantro oil was subtle and light. The tempura tiger prawn tacos with chipotle mayonnaise and lime are scrumptious – the prawns coated perfectly with a light, golden crisp, housed in a soft, homemade blue corn wrap. Mains follow, with a tender serving of grilled Chilean sea bass with axiote marinade of pineapple habanero butter, plus a dish of thinly sliced charcoaled wagyu tenderloin. And, last but not least, traditional churros with cajeta and chocolate sauce to finish (be sure to save a little bit of room – they're surprisingly light).
How was the service?
Staff were well versed on the menu and always on hand to assist with explaining speciality Mexican ingredients and spice levels. For the cocktail lovers' reading, the bartender here knows his stuff.
The bottom line:
An upmarket Mexican restaurant that detaches itself from the Tex-Mex route that so many others seem to go down. Beautiful, refined food in casual and contemporary surroundings – ideal for an evening with your loved ones or a group of friends.
Details: Priced at around AED 350 per person for a three-course meal without beverages. To make a reservation, call 04-5216300 or e-mail reservations@peyoterestaurant.ae.