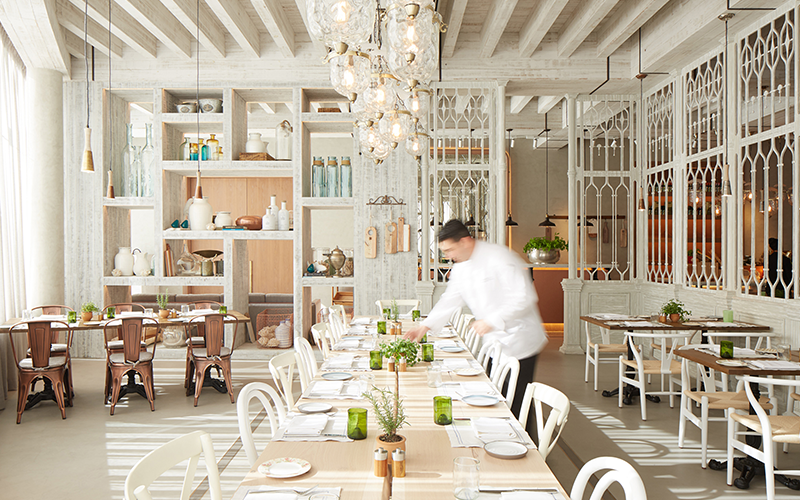 What's the concept?
Compared to neigbouring Media City, Barsha Heights is often left wanting when it comes to great lunch venues. That's why BBC Good Food Middle East was so excited to discover Ostro, the new Mediterranean restaurant at the DusitD2 Kenz hotel in the area. Situated on the ground floor, the restaurant's airy, open-plan whitewashed interior décor successfully captures the feel of the south coast of France – despite having Tecom roadside views.
What's the food like?
During the week, the restaurant has two well-priced menus available for lunch. There's the business lunch menu, which includes a limited number of dishes from the wider a la carte menu (which is also available). The standout dish of the meal was the incredibly fresh and succulent grilled octopus (from the a la carte). On the business lunch menu, the Insalata Ostro starter (a salad packed full of delicious pine nuts, shallots and kale) is worth a try, as is Gyros (grilled chicken with garlic yogurt, tomatoes, onion and flatbread wrap). If you have room, dessert is also included in the business lunch package. There's homemade ice cream on offer, along with a range of other sweets including the popular double chocolate pecan brownie.
How was the service?
Staff were warm, welcoming and knew both menus well. Most importantly for mid-week diners, the service was also prompt, with dishes being brought out quickly and drinks being regularly topped up. This meant the meal was easily wrapped up in the business-lunch hour.
What was the atmosphere like?
When BBC Good Food Middle East visited, the restaurant was half full with business lunch diners. There was a good atmosphere, with the volume quiet enough that you could comfortably converse with those at the table. During the winter months, there's a great patio area to enjoy lunch alfresco.
Ostro contact details:
Business lunch costs AED 70 for two courses. A la carte main courses from around AED 50. For more information or to book a table, visit DusitD2 Kenz.