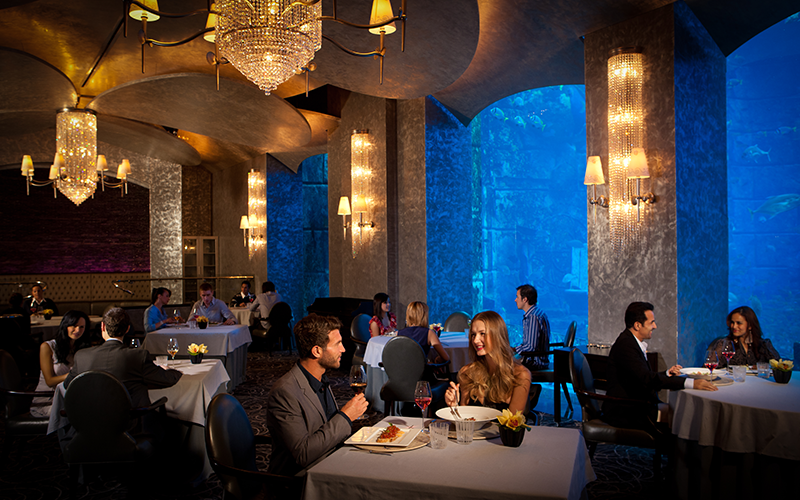 What's it like?
Perfect for those looking for somewhere to celebrate a special occasion or simply treat themselves, Ossiano offers an 'underwater' dining experience to remember. With floor-to-ceiling aquarium views into a rather breathtaking 'Ambassador Lagoon' that boasts 65,000 marine animals from shark to grouper all from local waters (not for eating), Ossiano is a spectacular venue. It comes as no surprise that it's a popular location to pop the big question, with the option to have a scuba diver swim in front to present a message board to your table.
Seated looking into the aquarium is all quite mesmerising. There's an air of elegance in Ossiano, and carefully thought out décor that transports you to a regal, enchanting underwater world, with pearl-like touches, crisp white table cloths and dazzling chandeliers throughout.
What are the food highlights?
Led by French chef Gregoire Berger, Ossiano's cuisine is contemporary and inspired by tasteful modern Mediterranean influence. While there's an a la carte menu available, the Ossiano Experience menu is a popular choice, which allows for four, five or seven courses.
The journey beings with a refreshing Kelly Oyster atop cooling apple and ginger granite, sour cream and picked cucumber. The Alaskan king crab with mandarin, mascarpone yuzu, cream and vanilla picked carrots that follows is equally as pleasing. One of my favourite dishes of the night proceeds – the rainbow trout 'floating island', is truly magnificent. It's a dish I've craved for since. The smoky trout was perfectly paired with light to dense cauliflower textures, and finished with a delectable layer of flavoursome Sturia caviar. To continue, a portion of Challan's duck breast with confit leg 'won ton', cider glaze and roasted apple, is served. Tender and succulent, the duck oozes a meaty taste that I savour. Next, a sensational dish of caramelised black cod with homemade linguine, almond foam and zucchini. The cod melts in the mouth and leaves a wonderful honeyed after taste and is complemented by light, al dente pasta. Depending on the course option you choose, a cheese board with the likes of creamy brie and crumbly, distinct blue. Dessert options, we're told vary evening to evening, depending on the pastry chef's choice. We were lucky enough to try the beautifully presented apple tart, which came accompanied by the most incredible, moreish caramel drizzle.
How was the service?
Second to none, the team at Ossiano ensured that high standards from the kitchen were mirrored front of house.
The bottom line:
A stunning meal inside an enchanting restaurant. Breathtaking surroundings aside, I believe chef Gregoire's talent is really the star of the show here, with his attention to detail and French finesse shining through in the cuisine.
Details: The Ossiano Experience Menu is priced at AED 670 for four courses, AED 785 for five courses and AED 890 for seven courses. For more information or to make a reservation, please call 04-4262000, or visit atlantisthepalm.com.