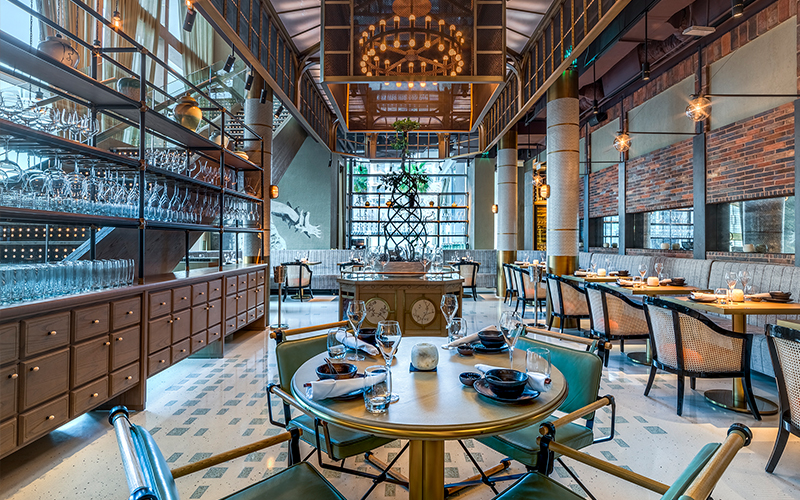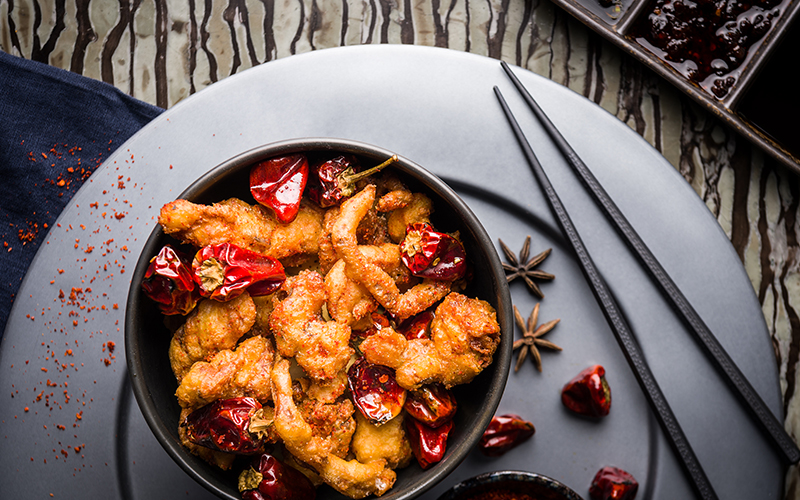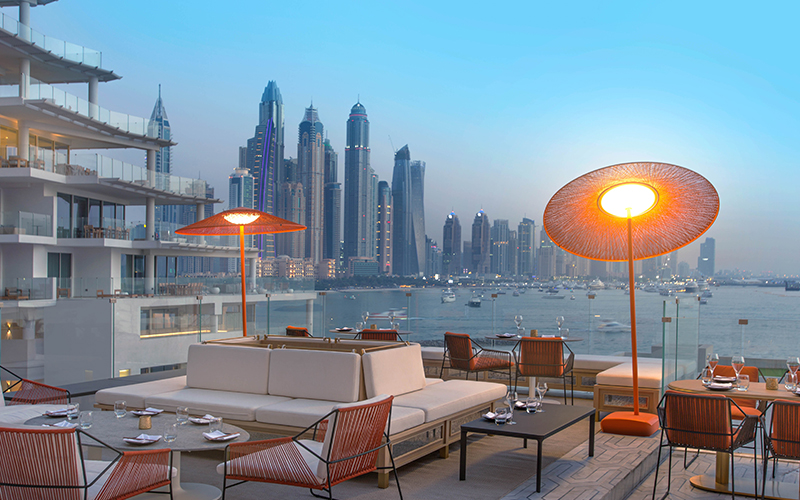 What's it like?
Recently opened at the FIVE Palm Jumeirah Dubai, Maiden Shanghai is a stunning restaurant serving authentic Chinese cuisine. The venue is a big one – spread across multiple floors comprising a multi-level restaurant, a lounge and bar, private dining rooms and rooftop terrace with gorgeous views over Dubai Marina. Inside it's boldly decorated with traditional Chinese design – it's so well done that once sat down, you feel transported to a modern eatery in China. Inspired by Chinese history, the eatery takes on a bronze colour palace, accessorised with tasteful antiques including old-fashioned lanterns.
What are the food highlights?
The kitchen is headed up by chef Luo Bing, who is formerly head chef of Hutong at The Shard in London. Backed by both an impressive food menu and drinks menu, it makes decision time a difficult one. Luckily, the team are well-versed and on hand to offer recommendations. Influenced by flavours and cooking methods of Cantonese, Sichuan, Shanghai and Beijing, the menu is designed to take you on a journey around China (so make sure you arrive hungry!). Must try items on the menu include the Peking duck – this was my favourite of the evening – so tender, succulent and encrusted with light, crispy skin. The soft-shell crab is one of the best I've ever tasted – very easy to eat, lightly crusted and packed with flavour and a spicy kick. Plus, the Kung Pao chicken was perfectly balanced and served with a nice amount of sauce for mixing with the rice. At the time we visited, Maiden Shanghi was still working on its dessert menu. The restaurant is open for lunch and dinner, or a dim sum bar selection, seven days a week. Plus, from Sunday to Thursday it's now offering business lunch from 12.30 to 3pm for Dhs120 for a two-course meal.
How was the service?
Very attentive and helpful. There's a lot on the menu – some of which I felt needed explaining, and the team did a great job in doing so. It really helped that there were Chinese nationals on hand to thoroughly explain dishes and unfamiliar ingredients.
The bottom line:
A great place to visit with your other half or a group of friends to share a variety of dishes, over some of the best cocktails I've tried in town recently!
Details: Around AED 280 for three-courses, without beverages. Call 04 455 9989 or visit the website.