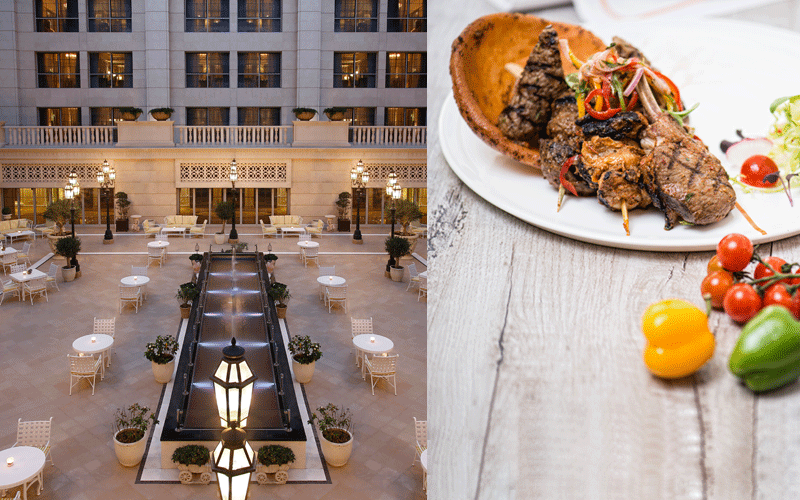 What's it like?
Le Patio is a beautiful al fresco oasis hidden from the hustle and bustle of Sheikh Zayed Road at St. Regis Dubai. It's a chic, open air venue within the central courtyard of the hotel, ideal for relaxing with family and friends over dinner or for a couple of drinks– especially during the beautiful cooler months. With a calming water feature running down the middle of the restaurant, Le Patio is an idyllic retreat serving traditional contemporary Arabic cuisine influenced by international flavours.
What are the food highlights?
Choose from freshly baked breads with a variety of authentic dips, or a selection of mixed grills from the barbeque. Light bites that are idea to share at the start include items like the restaurant's signature 'mezze tree', which comes playfully served with hummous, mutable and babaganoush cones. There's also cold and hot mezze platters, including Arabic plates like fattoush, tabblouleh, vine leaves, lamb kibbeh, and meat or cheese sambusek. Next, opt for starter dishes like watermelon & zaatar feta cheese salad served with hummous quinoa, or the warming harrira soup with green lentils, chickpeas and succulent lamb cubes. There's also a fantastic selection of Turkish pide, which is great served to share, as a side dish or as a smaller bite, with toppings including halloumi cheese, vegetables, chicken or lamb.
For bigger bites and main courses, opt for delicious grilled dishes like Arabic mixed grill, grilled seabass, shish taouk, or crusted dukkha lamb rack with zaatar mashed potato, or alternatively traditional chicken tagine with couscous. Traditional Arabic favourites such as lamb kofta wrap and chicken shawarma are also available here. Finish up on a sweet note and delight in a popular regional dessert called umm Ali, which comes served with puff pastry, milk and cream with pistachios and raisins. Another scrumptious option is the selection of baklava or Turkish kunafa with cheese. In terms of beverages, for something refreshing opt for an expertly blended iced mocktail, or a delectable tea infused with natural fruit nectars and fresh berries – perfect for enjoying during the winter nights, or refreshing with during the summer.
The bottom line: The ideal venue to head to when you're looking to share a relaxed, social evening with family and friends under the beautiful night's sky.
Details: Priced around AED 300 for three-courses, excluding beverages. Call 04-4355577.