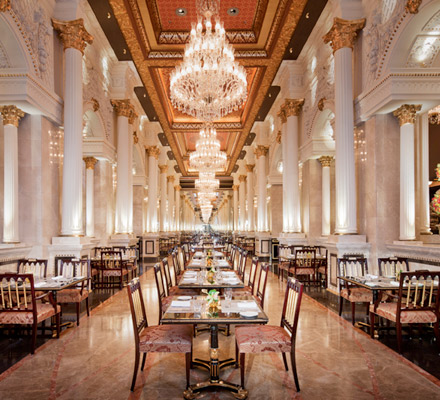 What's it like: Offering a refreshing change from the excesses of typical Dubai brunches, the French-themed one at Imperium is a well and truly civilised way to enjoy a Friday afternoon. The grandiose décor, with its vaulted ceilings, oversized chandeliers and Renaissance-style gilt-edged detail provides an elegant ambience, although in the present alfresco-perfect weather, you are best off booking a table in the more relaxed outdoor terrace. Here, a talented quartet – complete with beret-wearing accordion player – provide all the live entertainment you need (there's not a contortionist in sight!).
The buffet is wide and varied, with a slant towards bistro-style offerings including a variety of terrines, roasts and other carvery items, a wide array of cheeses, plus oysters and plenty of salads. What was a stand-out for me, however, was the fresh seafood barbecue area where melt-in-the-mouth lobsters and delicious moules marinières were being served to order. If the buffet doesn't offer enough choice for you, there's also an à la carte option for the mains, which includes roast chicken, pork belly, and an excellent risotto with chanterelle mushrooms. It will be easy to overdo the mains, but you will be sorry if you don't leave room for dessert – the offerings include authentic French specialties such as Bugnes with orange blossom, Engadine tart and Savarins, that aren't that commonly available. Washed down with the finest bubbly or beverages, it makes for a decadent experience – in a good way. For those who want to continue, the after-party venue is Voda bar next door, which offers half-price drinks, or if you'd prefer a mellower end to the day, having a go at the giant chess board in the hotel gardens is perfect!
If you want to go: From Dhs275 per person (soft drinks), Dhs550 for bubbly package.
Call 04-4530444.
Best for: A special occasion celebration in style
– Sudeshna Ghosh