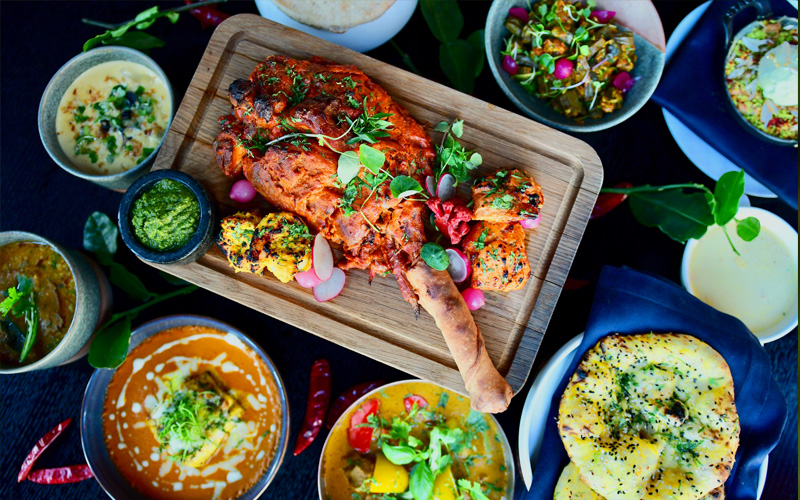 What's the theme?
Situated on the fourth floor of the JW Marriott Marquis hotel with views over the Dubai Canal, Atul Kochhar's restaurant certainly doesn't disappoint with its new iftar menu. Unlike many celebrity chefs with outlets in the city, Kochhar regularly flies over to Dubai to direct the menu and manage the kitchen. As such, the Ramadan set menu has many hallmarks of Kochhar's a la carte dishes, which mix playful inventiveness with rich, traditional Indian flavours (watch out for the fresh basil bush which you're invited to cut yourself as part of a build-your-own appetizer).
What's the food like?
The iftar menu is influenced by the different heritage across India's cities, and is a testament to how many unique tastes, styles and technique make up Indian cuisine. The menu starts in the north, with a delicious Lamb broth, which is simmered with wheat, cardamom and fennel. Next, there's shrimp cooked in a tandoor, chicken tikka with Kashmiri spices and lamb served with a spicy marinade. For mains, there's a delicious dal nazimi, okra cooked in a home-style masala, stewed goat, a Bengali chicken curry and biryani. For dessert, swings towards warm comfort food, with a Hyderbadi-style bread pudding.
How was the service?
The serving team at Rang Mahal are passionate about the food they serve. They can each discuss the different flavours and techniques used in the different dishes with ease. Chef de cuisine Amrish Sood, who heads up Kochhar's kitchen, often comes out to chat with guests about the different dishes and is a testament to the Kochhar brand.
What's the atmosphere like?
When BBC Good Food Middle East visited on a Saturday evening the restaurant was half full of diners who were having both the regular a la carte menu and the iftar menu. Dining at Rang Mahal always feels like an impressive event, with the spectacular high ceilings, metre-wide traditional pillars and floor to roof murals on each wall.
Details: The set iftar menu costs AED 325 per person without drinks, the normal food and drink menus are also in operation throughout Ramadan. For more information on booking a table, visit Rang Mahal or call 04 414 3000