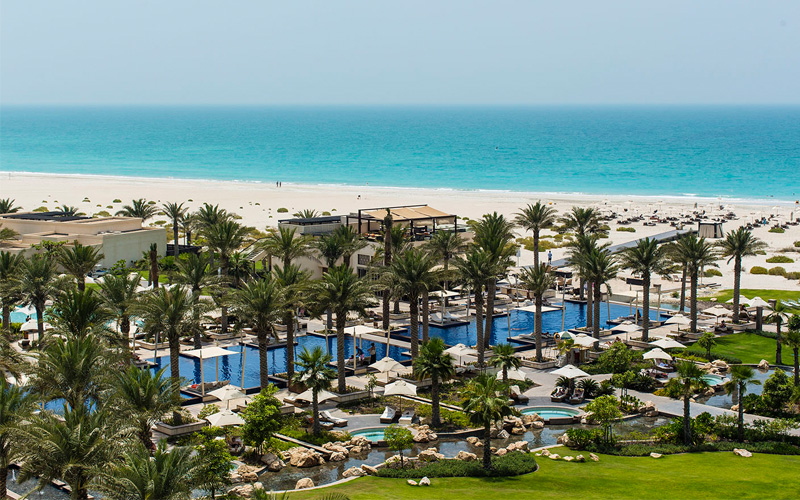 What's the hotel's like?
This resort is where to go for a perfect weekend escape (or week-long, if you have the time). Here you're transported away from the hustle and bustle of city life – I almost felt like I'd flown to European shores and landed myself an idyllic spot on a peacefully remote Portuguese beach. It's a blissful resort for both families and couples, catering to the needs of all. With 306 luxurious rooms, suites and villas (villas all equipped with private open-air plunge pools) on its grounds, this property is a big one – laid out in a way that allows for tranquility no matter where you choose to spend your time during the stay.
How is the service?
From check-in to departure, the team at Park Hyatt Abu Dhabi Hotel and Villas ensures that you're fully catered to. Expect friendly staff who will go out of their way to help you.
Food highlights?
The resort has six different food and beverage outlets, all serving up a variety of international cuisines and carefully crafted drinks. The Beach House & Rooftop is my favourite outlet of the property, this beauty on the beach is simply gorgeous. It's relaxing, romantic and serves up deliciously fresh Mediterranean cuisine. The menu features a fantastic range of fish and seafood options predominantly, but there's also meat and vegetarian dishes. What I really liked on the menu was this restaurant's recognition and support of the 'Choose Wisely' initiative, which ensures that fish is caught locally when possible and fish levels are sustainability are managed.
Standout features?
When it comes to relaxation, you'll find yourself faced with a tough decision when choosing where to lounge for the day. From the long stretch of natural white sand and blue waters (one of the best beaches I've seen in this region – so serene and beautiful), to a selection of spots around the pool or perfectly manicured gardens, you'll not be without a place to put your feet up and chill.
Address: Park Hyatt, Park Hyatt Abu Dhabi Hotel and Villas, Saadiyat Island, Abu Dhabi, UAE. For more information click here