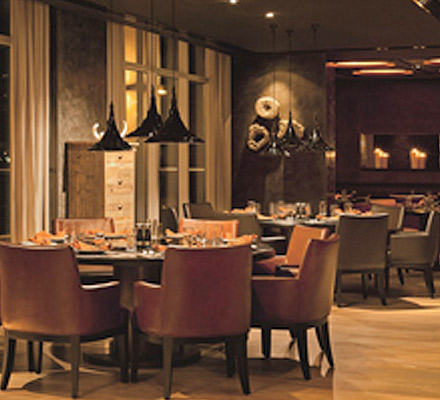 What's it like: If massive buffet tables groaning under the weight of too much food is not your style, and brunch with table service is more up your street, then this is the one for you. Provided you love meat of course! This stylish Pan Latin American restaurant brings the Brazilian churrascaro to life in its Friday brunch, with natural light flooding the interiors and a buzzing atmosphere creating a relaxed yet glamorous vibe. The meal starts with specialties such as the traditional cheese bread, ceviche (fish cured in lemon juice), one of the best guacamoles I've ever tried, empanadas, and a delicious batter fried fish nugget being served on the table for sharing.
Soon after, the meatfest begins. The staff bring out different cuts of meat in quick succession, from tender Achiote marinated chicken and lamb chops, to the succulent picanha (the most popular churrasco cut), and everything in between – in true Rodizio style. Fresh salads including a healthy quinoa salad, polenta, the legendary yuca fries and corn mash crowd up the table as the perfect sides, and cocktails such as refreshing caipirinhas complete the mix, making for a truly traditional taste of Latin America. It's unlikely you will have room for dessert – we didn't – but traditional treats such as fruit platters and Dulce de leche puddings are also brought to the table at the end of the meal for sharing-style tucking in. With warm and friendly staff who seem genuinely interested in feeding you, you're bound to stagger out of there feeling as full as you would after a traditional buffet brunch – but with a far better taste in your mouth!
If you want to go: Friday brunch, from Dhs300 per person (soft drinks package). Call 04-3176000.
Best for: Celebrating a special occasion
– Sudeshna Ghosh