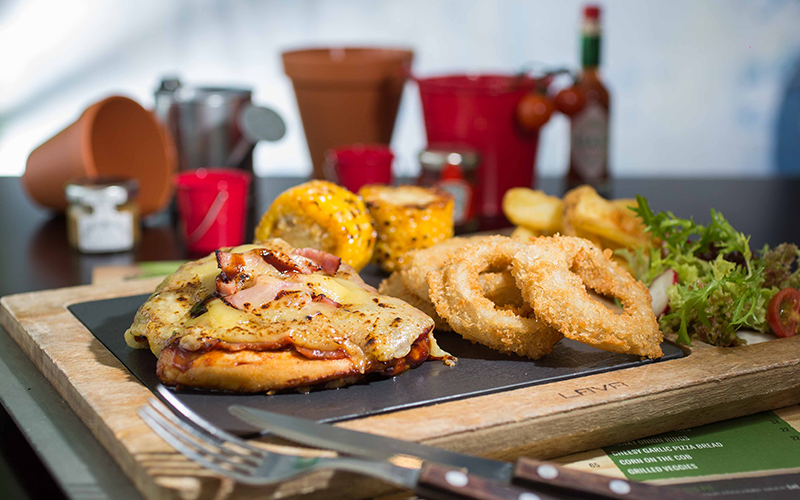 What's the concept?
Garden on 8 at Media One Hotel has officially re-opened and is bigger and better than before. The venue has grown and now occupies the space that used to house 'The Med', in addition to a large outdoor terrace that neighbours the hotel's poolside, Coco on 8 outlet has replaced 'Dek on 8' as a new Miami-inspired lounge, offering a more feminine touch than Garden on 8. Boasting the look and feel of an industrial hops garden, Garden on 8 is a casual, laid-back venue, ideal for catching up with friends after work or on a weekend when the venue hosts a double brunch (from 12.30pm – 4pm and from 7pm – 10.30pm, priced at AED 395 all-inclusive or AED 349 if booked before Tuesday for each brunch). Expect sporting games on the big screen, daily happy hour and great craft hops and food promotions, in a fun and lively environment.
What are the food highlights?
As described on the menu, food here is 'unashamedly messy'. In a nutshell, it's hearty, satisfying and wholesome – really great proper pub grub. Whether you're looking to enjoy a range of sharing nibbles, a sandwich or a burger, pizza, a salad or a fuller meal, the menu here has you covered. To start, the homemade mozzarella sticks with spicy tomato are a winner, along with the bucket of buffalo wings that come in smoky, tangy and spicy flavours – trust me, they're worth getting your fingers messy for! In terms of 'handhelds' there's options like the 'brat dog', steak sandwich on ciabatta or blacked salmon tacos that we enjoyed with pico de gallo guacamole and zingy lime ranch. For something a little (well, a lot) more filling, the 18oz rib eye steak with fries, corn on the cob, onion rings and grilled tomato will do the trick just nicely – be warned, the portions are generous. If you have room for dessert, the menu's 'diet destroyers' await with temptation. Perfect for sharing, and sharing only, the super monster mega cookie is every big ginormous as it sounds. A giant cookie slathered with oozy, melted marshmallows, nuts, m&m's, chocolate sauce and whipped cream, is sure to defeat even those with a hearty appetite.
How was the service?
'Service with a smile' rings true here. The team are friendly, helpful and upbeat.
The bottom line:
Open 12pm to midnight from Sunday to Wednesday, and until 3am on Thursday to Saturday, Garden on 8 is a great hangout spot offering craft hops and wholesome bites at reasonable prices. Looking for somewhere to watch the match or enjoy a few cold ones without breaking the bank? Here's the ideal place to head.
Details: Priced at around AED 150 per person for three courses without beverages. To make a reservation, call 04-4271000 or e-mail gardenon8@mediaonehotel.com.