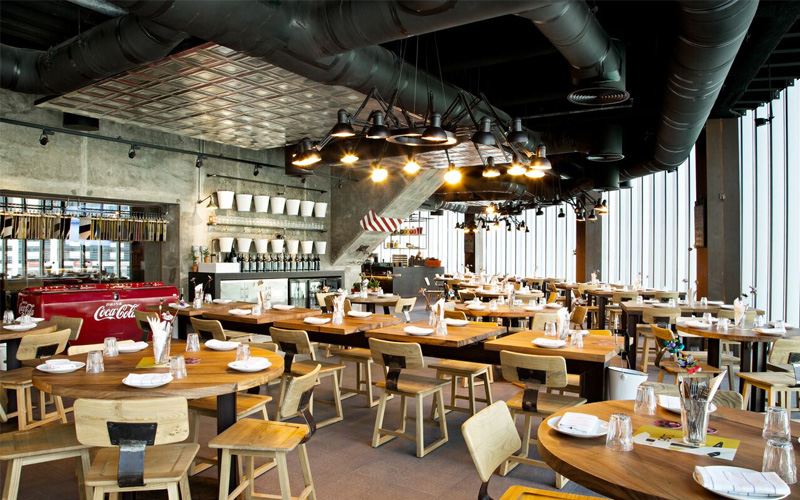 What's the concept?
This laidback Western eatery is based in the popular Pier 7 hotspot in Dubai Marina. There's trendy mismatched furniture, an open plan kitchen and hipster dining staff. Following the successful launch on the first venue in 2014, a second outlet opened in Downtown Dubai.
What's the food like?
The restaurant offers a sharing style menu, portions are large and many are designed to be eaten with your hands. Think tasty fresh fried calamari with a Thai chili and fresh lime dip and plump harra shrimps with garlic and paprika. For mains there's a delicious pulled beef brisket bun with vinegar slaw, an equally yummy hot smoked Norwegian salmon and a honey and chili marinated chicken. For dessert, try the caramel and chocolate éclair or the date and banana pudding. For those with a very sweet tooth, be sure to leave room for one of the restaurants 'monster shakes' there's a range of flavours on offer, including bro-nut (chocolate, brownie, Nutella and marshmallow) and popping cereal (popcorn, caramel, ice cream, and white chocolate).
How was the service?
The serving team were on the ball and prompt with delivering the different courses and drinks order. One member of the group had celiac disease, and the serving team were particularly conscientious and helpful in recommending gluten-free courses for them.
What's the atmosphere like?
Expect a relaxed atmosphere with a casual dress code. There's fantastic views from the restaurant through the floor to ceiling windows, out over Dubai Marina.
Details: for more information, visit Fume at Pier 7. If you enjoyed this, you may like this review on the Aji at Club Vista Mare.