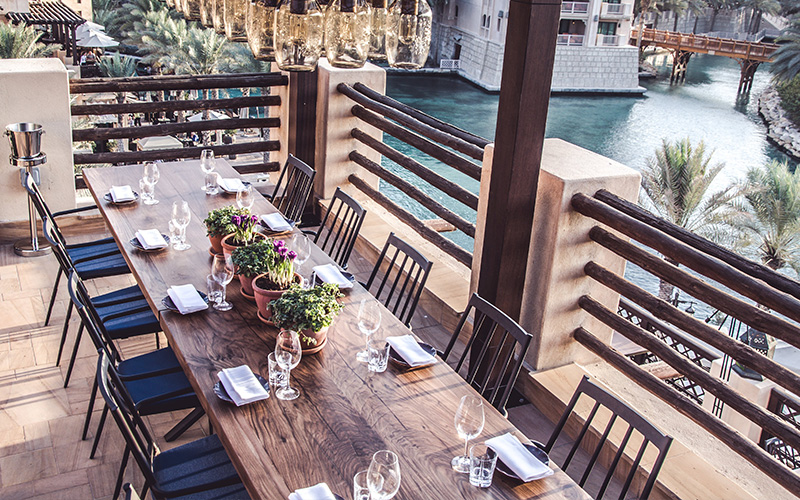 What's it like?
Housed in the space previously occupied by Rivington Grill, folly by Nick & Scott is well worth a visit. From chefs Nick Alvis and Scott Price – the guys who formerly oversaw Table 9, folly is a homegrown concept launched in partnership with Gates Hospitality. The venue, spread across three floors, is home to an indoor dining area with open, interactive kitchen, as well as indoor and outdoor bars and terraces (yes, there's more than one). It's informal, yet elegant and the offering is unique to Dubai. If it weren't for the breathtaking views over Madinat Jumeirah's Arabic-inspired waterways and the Burj Al Arab in clear sight, you could almost be in a stylish, relaxed garden venue in the UK. There's exposed brick, gorgeous greenery and rustic wood work everywhere, paired with mason jar lights that twinkle as the sun sets. It really sets itself aside from the Dubai norm. You can eat indoors or out on the terrace, with various seating options available – including the communal table outside or the ultimate romantic spot for two in the windtower, which offers total privacy and phenomenal, incomparable views (I foresee a few proposals taking place here). Before dinner, I'd highly recommend arriving for sundowners on the terrace – it's truly beautiful.
What are the food highlights?
The food at folly is inventive and intriguing, offering an informal take on modern fine dining. Unlike the usual, the menu here is divided into three pages, with around eight dish options on each. Everything on page one is priced at Dhs45, page two at Dhs70, and page three at Dhs110. The idea is that you're able to create your own tasting menu and try a range of options without filling up or breaking the bank on course one. We were encouraged to select a couple from the first two pages, then one from page three. I have to admit, I struggled when deciding what to eat, purely because everything sounded so good! I loved the use of ingredients that you don't tend to see on menus in Dubai, like barbequed pigeon with tarragon succotash, veal tongue with capers and parmesan, guinea fowl with zataar stuffing, and sweetbread with cepe and red wine. Plates are served with finesse and presented beautifully – you can tell that attention to detail and quality produce is key. Favourites of the night for me include the Omani shrimp, with marjoram and lime gremolata, monk fish cheeks with paprika and salted lemon, and the succulent lamb saddle with whipped pine nuts and salsa. And, not forgetting dessert, the rhubarb and custard is wonderful and offers a twist from what you'd expect.
How was the service?
In a nutshell? Fantastic! Staff were all well versed on F&B offerings and went that extra mile to ensure comfort. It's refreshing and impressive when FOH staff can go into depth about an ingredient's traceability, or tell you a tale about the founder of a vineyard where the drink you're enjoying came from.
The bottom line:
Extremely charming venue with fresh, high-quality food. Perfect for a romantic evening with your other half, or a special dinner with family and friends at one of the communal tables.
Details: AED 340 for five courses without drinks. For reservations call 04-4308535. Visit Folly for more information.