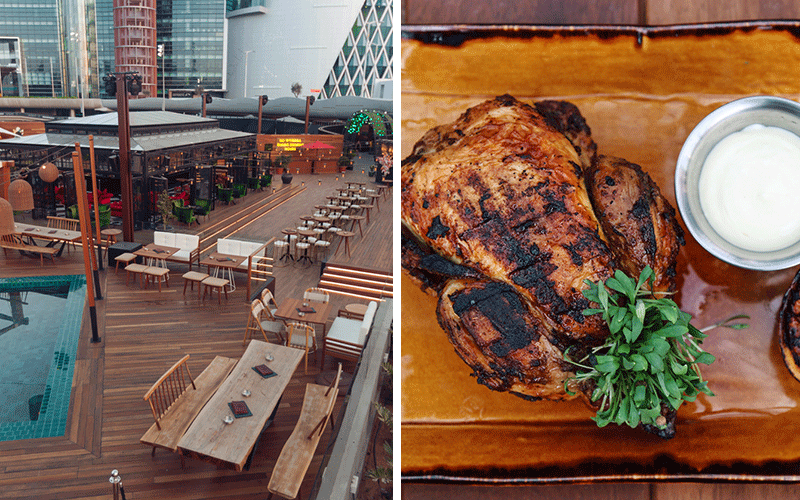 What's it like?
A new dining and nightlife entertainment space located within the grounds of Meydan Racecourse, Soho Garden is an exciting spot that encompasses various outlets – from eateries and bars, to pools and nightclubs.
In the central area, you'll find the Glasshouse Bar, Bellini Bar, Tiki Bar and Negroni Bar, which are all located a stone's throw away from each other, making it very easy to hop from venue to venue.
At Soho Garden to experience its newly introduced Sunset Brunch, which takes place every Friday from 4pm till 8pm, the vibe is exciting, upbeat and pretty laid back. It's not until after brunch that the atmosphere kicks up a notch, when famed Café Mambo Ibiza DJs turn up the volume and the crowd really gets going.
What are the food highlights?
As the sun sets over Dubai's gorgeous skyline in the distance, Soho Garden offers its guests a three-course menu and unlimited beverages to accompany.
To start, recommendations include the king prawn tempura with soy, yuzu and cilantro. The prawns are large, meaty and aren't breaded too heavily, making them a delight to eat. The creamy burrata with sun blush tomato tapenade and basil pesto is flavoursome and a filling starter if you're looking for something heavier.
For the larger plates, the tam tam poke bowl is a popular choice, with salmon, spring onion, ahi sauce, toasted sesame seeds, cucumber, avocado, pickled ginger, carrots, pineapple and coriander, all on a bed of rice. The Soho Wagyu burger is one of the biggest burger's I've seen of late – it's huge. Sliced in half, I struggled to finish one whole half – to my dining partner's delight. The beef patty was succulent, juice and oozed beefy flavour, paired wonderfully with sliced aged cheddar and incredibly moreish balsamic onions. For vegetarian's the outlet serves a bean burger counterpart.
On the side, I'd recommend the potato soufflé with molten aged Gruyere, white truffle and Parmesan. Ending things on a sweet note, a selection of desserts were served, including a delicious baked vanilla cheesecake, and a raspberry baked Alaska.
How was the service?
The team were friendly and attentive, ensuring we were never without a beverage.
The bottom line:
An exciting venue to visit with a group of friends for an afternoon of fun, food and drinks. When brunch ends at 8pm, be sure to make a table reservation beforehand if you'd like to stick around and have somewhere to sit, as you'll be quickly escorted from your table to the bar, which was a little crowded and had no available tables when we visited.
Details: Every Friday from 4pm until 8pm, priced at AED 450 per person for three-courses, house beverages and bubbly. For more information or reservations, call 056 82 22 559, or e-mail reservations@sohogardendxb.com