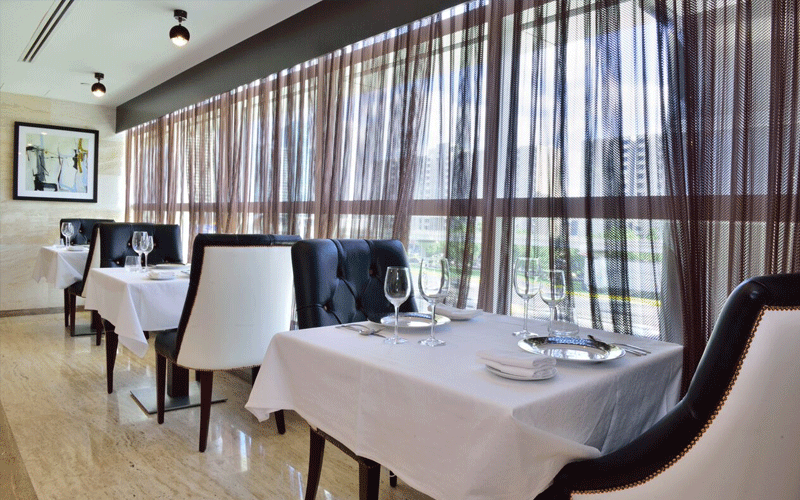 What's the concept?
One of the few Indian fine-dining restaurants in Dubai not linked to a celebrity proprietor, Tresind describes itself as serving up "modernist Indian cuisine". Be prepared for plenty of molecular gastronomical theatrics (two of the dishes came with a large waft of dry ice, and one was displayed on a miniature clothes washing line).
What are the food highlights?
BBC Good Food tried the nine-course degustation menu. If you decide to go for this option, be sure to arrive with an appetite. Unlike the small tasting-sized portions typical of a chef's choice menu, each course here is closer to the size of a regular main course dish. Having said that, you may find it difficult to pace yourself, as all nine dishes offered up are delicious. Stand out courses are the Modernist Chaat trolley, paneer cafreal, fresh green peppercorn and the Macher jhol (fish curry).
How's the service?
The degustation menu comes with its own personal chef throughout the evening, and most courses on the menu are prepared at the table. This style of service adds theatrical flare to the meal, as does the chef, who talks you through each dish as the meal goes along.
What is the atmosphere like?
When BBC Good Food visited (on a Thursday evening) the venue was two thirds full, with a mix of couples and groups. The interior is modern, with a simple gold, black and white design.
The view from the restaurant is not spectacular (Sheikh Zayed Road, through net curtains), but the restaurant more than makes up for it with the quality of food and service. There's also a great bar area, which is perfect for a pre or post dinner drink.
The nine course Chef's Tasting Menu: AED 350 (vegetarian), AED365 (meat), AED 565 with grape pairing. Address: Tresind, 2nd Floor of Nassima Royal Hotel, Sheikh Zayed road, DWTC area, Dubai, UAE. For more information visit tresind.com or call +971 4 308 0440.