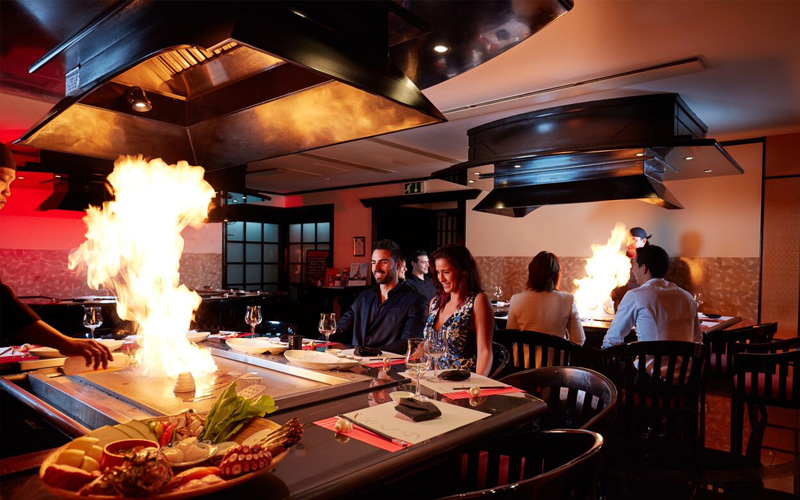 What's the concept?
The restaurant's retro interior wouldn't be out of place in 1970s Tokyo (beige walls, shoji-style room dividers and thick dark wooden paneling). It's something that's remained resolutely unchanged in the restaurant, which has been on the same spot on Sheikh Zayed Road for around 20 years. It makes for a welcome break from the hyper 'conceptualised' restaurants that regularly open (and close) in the city. The entrance is equally quirky: it's hidden at the back of a French-themed bar on the 4th floor of the hotel. To make sure you don't end up in the toilets, from the lifts head right and right again, through the back of the French bar.
What are the food highlights?
Like many Japanese restaurants, the star of Sakura is its live Tapanyaki cooking stations. Standout dishes were the salmon and Wagyu beef. The evening brunch package is an absolute steal (it costs AED 295 per person and includes a Tapanyaki table, unlimited sushi and sashimi buffet, house beverages and traditional Japanese beverages).
How's the service?
There were plenty of staff for this small restaurant, who were sharp and on the ball. The Tapanyaki chef was incredibly entertaining, and paced the delivery of the food well so we weren't rushed to finish the fresh salmon, prawns, chicken, Wagyu beef and rice dishes served up.
What's the atmosphere like?
On the night BBC Good Food Middle East visited (a Monday), it was busy with business people and expat couples. Due to its small size, it's easy for the place to get busy, so it's worth booking ahead. There are also only three Tapanyaki stations (seating eight each) so unless you are a big group, you will be expected to share.
Details: Sakura, 4th Floor, Crowne Plaza Dubai, Sheikh Zayed Road, Trade Centre Area, Dubai, UAE. For more information click here.
The Izakaya nights brunch package is available every Monday, Wednesday and Friday from 5pm-12am and include appetizers, sushi, sashimi, traditional Japanese salads and soups. The packages are:AED 195 per person including soft drinks. AED 295 per person including free flow of selected grapes, hops and bubbly.