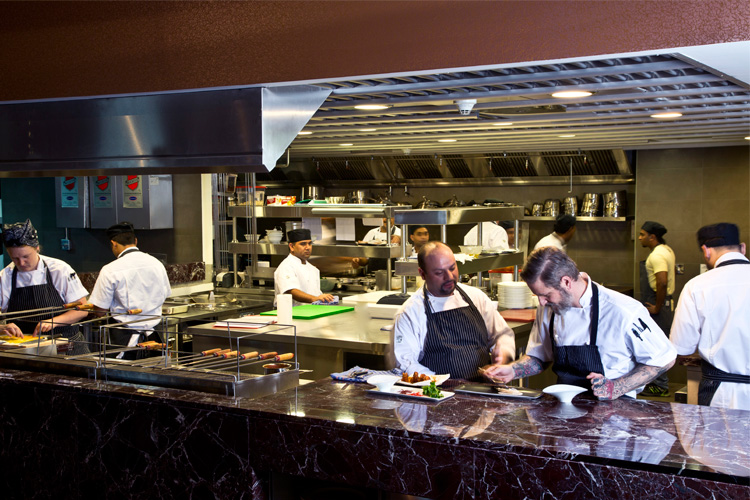 What's the concept?
'Junoon' means passion in Hindi, and everything from the food, staff and decor backs up that concept to a tee. The Dubai branch is actually a spin off from the original Michelin-starred Junoon in New York. As such, the North Indian Muglai cuisine (of which the restaurant specialises) is not your traditional Indian fair.
What are the food highlights?
The menu is relatively short when compared to the pages and pages you normally find at a traditional Indian in the city. You get a selection of kebabs, meat, fish and rice dishes. North Indian cuisine is no stranger to vegetarian dishes, which is a rare treat in a city obsessed with meat. The crispy eggplant chaat starter was as interesting as it was inventive, and something not usually found on Indian menus. The salmon and chicken tandoori were melt-in-your-mouth tasty, and the prawn curry was far lighter than you'd expect an Indian curry to be.
How is the service?
Expect to be fawned over, and not in a bad way. The staff are very concerned that the food be up to your exacting standards, but attentive enough to know constantly asking if everything is delicious can get a tad weary over three courses. That said, everyone who served us knew the menu back-to-front, including which dishes chilli-novices should avoid. Food is plated with drama and flair, and the chefs at Junoon are not afraid to roll out the dry ice and liquid nitrogen. Everything that leaves the kitchen is plated beautifully, so expect to see more than a fair share of fellow diners whip out their phones mid-meal for a cheeky Instagram snap.
What is the atmosphere like?
The large open kitchen, chef and staff are clearly visible from nearly every table at Junoon. Fresh indian spices and flavours of roasted onion and garlic waft out of the kitchen and across the restaurant, which contributes to the warm atmosphere of the room. The decor reflects the North Indian concept; it's dark with traditional mosaics along the walls, and there are several tables framed with ornate wooden carvings – perfect for a romantic meal for two.
Around AED 500 for two people dining without drinks. Junoon, second floor, Shangri-La Hotel,Sheikh Zayed road, Dubai, UAE. For more information click here