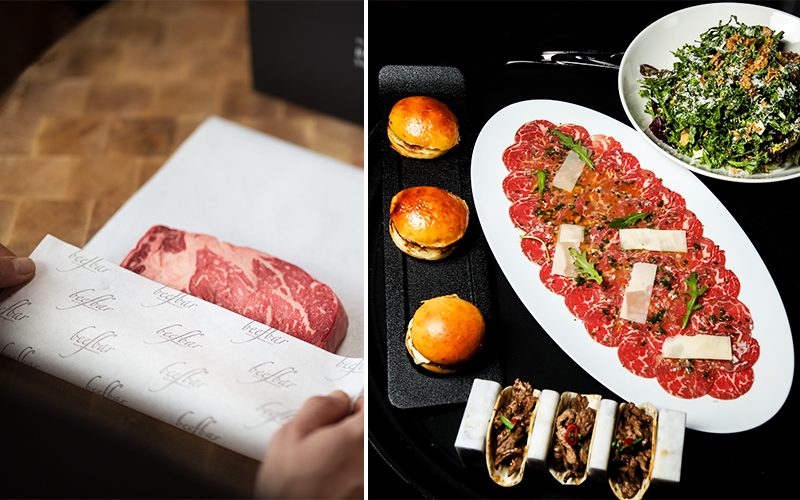 What's the concept?
Representing the world's sixth 'Beefbar', following Hong Kong, Mexico, Mykonos, Cannes and Monaco, where it was born, Beefbar Dubai opened doors last month. It's a carnivore's dream venue, comprising a premium butcher's shop, restaurant, bar, lounge and terrace.
As you enter, large display fridges house some of the world's most sought-after beef cuts –including Kobe – real, legitimate Certified Japanese Kobe beef (yes!). Inside the lounge and restaurant, interiors are warm and inviting with quality black marble, dark woods and gold accents, leather sofas and romantic, dimmed lighting. It's luxurious, yet casual.
The bar and lounge area is segregated from the restaurant and offers a more up-beat vibe. The drinks are fantastic, and can be enjoyed pre- or post-dinner with family or friends, as a live DJ plays the latest hits.
What are the food highlights?
Naturally, beef takes the limelight across the menu here – and deservingly so. To start, although they may not be your first choice at such an establishment, I can't recommend the three mini Kobe and Angus hamburgers enough. They are truly divine, flavour-packed, succulent patties housed in soft, buttery brioche buns with assorted sauces: japapeno, hot hananero (not too hot), and truffle. The trio of tartare is also a must, which comes served with three small but generous portions of Kobe, Black Angus and veal tartare, topped with caviar – it makes for the perfect start to the ultimate meaty experience.
Moving on to mains, a wide-range of beef cuts make-up most of the menu and include everything from Ranger Valley Australian Black Angus 'black Onyx', Creekstone Farm American USDA Certified Black Angus Beef and the Beefbar Dubai exclusive, certified Japanese Kobe. There's even Spanish Iberico lamb and Dutch milk-fed veal, plus a fish section (a very small fish section) for anyone whose inner-carnivore isn't feeling up to it.
Spoilt for choice, my dining partner and I opted for two different cuts to share – both of which were equally as impressive. The rib-eye cap was most tender and had great marbling, while the black Onyx fillet was juicy and bursting with flavour. The meat here boasts incredible flavour, which I later learnt is enhanced through a patented cooking method used by Beefbar to achieve a crispy seal on the meat which keeps it tender and juicy inside.
To accompany the meat, we splurged with three kinds of mashed potato – yes, three. I know that sounds extensive, but when the menu offers eleven types of mash, what's a girl to do?
We went with the creamy classic option, the Middle Eastern-inspired harissa chili pepper flavour, and lastly the Italian blue cheese with walnuts. I honestly can't pick a favourite as they were all perfect in their own way – each gorgeously pureed, smooth, creamy and delicious.
To finish, the pastry chef's super-sized soufflés are to die for. We shared a passionfruit and mango soufflé, as well as a chocolate and vanilla soufflé, and could no-where near finish either of them. It's a great sharing dessert (one between two).
How was the service?
The friendly team at Beefbar is accommodating, friendly and extremely well-versed on the menu – with so many beef variants on the menu, we had quite a few questions, which were all well-answered by our server.
The bottom line:
If you're a beef lover, this is a great spot to treat yourself, with indulgent, absolutely delicious food. In a market abundant with steakhouses, Beefbar has most defintley come onto the restaurant scene with a bold and unique personality. The restaurant is open six-days a week from 6pm to 1am (Sunday – Wednesday) and 6pm – 2pm (Thursday – Friday), and is closed on Saturdays.
Details: Around AED 400 per person for a three-course dinner, without beverages. Call 04 352 2223 or e-mail reservations.dubai@beefbar.com.