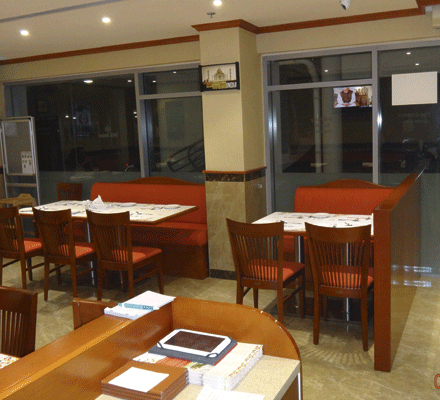 What's it like: The most authentic Indian food can sometimes be found in casual dining restaurants – even celebrity chef Vineet Bhatia thinks so! – and this restaurant validates just that. This express outlet, part of the renowned Delhi Darbar chain, is your everyday casual, community restaurant specialising in traditional homely Indian food. White wooden tables with red leather seating create a cosy ambience, making it an inviting option for those who choose to come here – and not just resort to takeout, something they're popular for.
The menu selection is varied, including everything from tempting tandoori items like fresh, juicy shrimps cooked over a charcoal fire, to tender, mild-spicy chunks of chargrilled mutton Bihari kebab marinated in a spicy yoghurt (order the half plate for appetisers). For mains, my dining partner and I relished the creamy butter chicken, that wasn't too sweet or spicy, and rogan gosht (slow-cooked succulent mutton with gravy) with roomali roti (a paper-thin soft flatbread), and aromatic butter-y garlic naans. We also tried the Bombay-style mutton biryani and were pleased with the texture of grainy rice, fried onions, and chunky meat pieces, accompanied by saffron and cinnamon notes in every bite. For dessert, we couldn't resist carrot halwa, an Indian classic (find the recipe to make your own on p48!), which we devoured with a scoop of vanilla ice cream at the end of our meal.
The authentic flavours, combined with friendly service, were clearly the perfect formula for the restaurant being as busy as it appeared to be, even on a weeknight! – Nicola Monteath
If you want to go: Around Dhs120 for two. Call 04-4277708.
Best for: A relaxed meal at affordable prices.