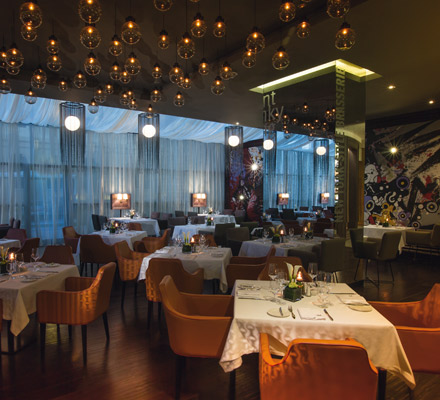 What's it like: First of all, I'd like to point out this restaurant isn't just another steakhouse. It's a New York-style brasserie which offers premium cuts of meat, as well as seafood. Here you can sit at the bar and lounge lit up with wine glass-style lighting fixtures, or dine indoors and admire the graffiti feature wall which adds an artsy touch to the otherwise elegant décor. Both options were enticing, but we sat on the pool terrace to make the most out of alfresco dining – while we still could!
It's easy picking from the concise, newly revamped menu. My partner chose a trio of foie gras, which showcased a torched foie gras with a sweet burnt crust, and raw and sautéed liver which was smeared over crisp brioche with rhubarb chutney. I chose scallops rockerfeller which had wonderfully textured scallops topped with crumbs, and served in the shell on a bed of cream, spinach and beef bacon bits. The dish was complemented by a juicy red pepper coulis which was mildly spicy. Dutch Veal lamb chop was the way to go to for mains, but I'd imagined the chop to be a way smaller portion than it was – the 450g chop served with baby carrots, a truffle jus that lingered around my palate, and creamy mushroom-stuffed roulade (similar to an enchilada), was absolutely divine nonetheless. My partner opted for a medium rare USDA Black Angus T-bone – cooked to perfection – with an innovative, slightly syrupy bone marrow bordelaise sauce and macaroni and cheese as a side. Mains are served in generous portions and can be shared as well. After such a heavy meal, sharing a platter of mini desserts of strawberry macaron, dense and chocolate-y eggless cake, and a creamy pistachio cream, which tasted like a toffee marzipan, was perfect.
If you want to go: Around 600 for three-course meal for two, without drinks. Call 04-4498888.
Best for: Casual weeknight dining
– Nicola Monteath