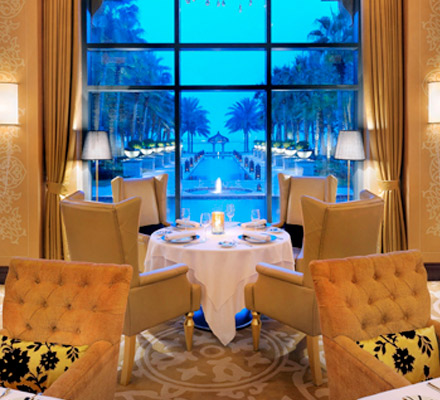 Like everything else at this hotel, the restaurant oozes understated luxe – plush carpeting, silk curtains, crystal chandeliers and a subtle beige colour scheme all of which come together to create an ambience that is on the sophisticated side of glam. The recently revamped restaurant now features a French-influenced European menu that offers just enough variety without being confusingly large.
For starters, I opted for the courgette flower tempura with langoustine and mozzarella – which, while artfully presented, seemed to lack in cohesion a little bit. Each element of the dish was beautiful, but somehow, they didn't come together as well as I'd have expected, but I enjoyed it nonetheless. My partner's wild mushroom risotto with truffle oil on the other hand (also available as a main course) definitely won Round One, with the slippery mushrooms and the divine truffle flavour literally melting in the mouth. The main course was a slightly more closely contested battle, where my citrus flavoured roasted turbot (one of my favourite fishes) with port wine sauce, carrot and baby onion offered up a delicate symphony of flavours. My partner's tender farm chicken breast with celeriac purée and barbajuans (a fried pasty stuffed with spinach, typical of the French Riviera) was prepared without the foie gras on the menu, as per his request, and was no less delicious for it, stuffed as it was with herbs. The restaurant is happy to tailor dishes according to guests' tastes, something that portly French restaurant manager Damien made clear to us at the outset – this sort of friendly helpfulness was something I really appreciated in the service style. Round Three went to my choice of the strawberry and pistachio vacherin (a traditional meringue dessert) with its delightful interplay of textures, while my partner's red berries with vanilla milk shake (more like vanilla cream drizzled over the fruit) with dark chocolate sauce made for a playful end to his meal.
If you want to go: Around Dhs550 for three-course meal for two, without drinks. Call 04-3999999.
Best for: Date night
– Sudeshna Ghosh