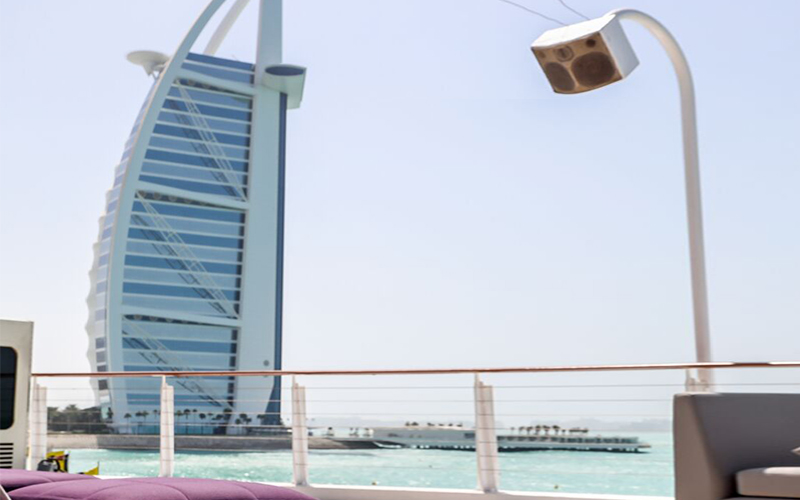 What's the concept?
Perched out at sea, at the end of a long jetty, the restaurant offers panoramic views of the marina by Jumeirah Beach Hotel and probably the best view of the Burj Al Arab in Dubai. Better known as an evening party spot, the newly launched daytime Friday brunch offers a reasonably priced food and beverage package, based around some of its best-loved bar dishes and signature drinks.
What are the food highlights?
It's definitely a brunch for sushi fans, the first course consists of two delicious sushi and sashimi platters, including salmon, tuna and mackerel. There's also a tasty mix of chicken, vegetable prawn dim sum, followed by chicken and beef sliders and vegetable spring rolls.
How's the service?
A welcome break from buffet brunches, the courses were served fresh to the table. The staff were incredibly attentive and staggered the courses well over the three-hour sitting.
What's the atmosphere like?
Situated on the top outdoor deck of the restaurant, the brunch is great for the cooler winter months. When BBC Good Food Middle East visited the brunch was not full, but that's most likely because it has only been on the Dubai scene for a few weeks (considering the food and location, the package is a steal at only AED 275 per person). The place became busier towards the end, as people arrived for post-brunch drinks.
AED 275 per person 1pm-4pm every Friday. 360, Jumeirah Beach Hotel, Jumeirah, Dubai, UAE. For more information call +971 4 406 8741 or visit the 360 website.