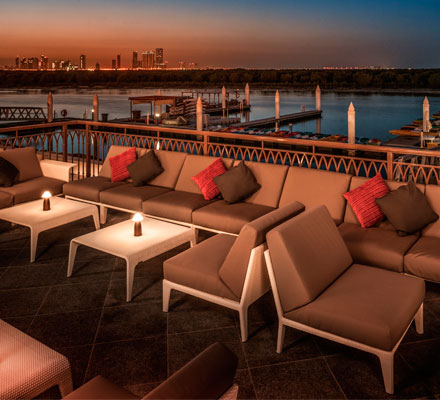 What's it like: Ever since Boa Steakhouse opened, we'd heard whispers of a chic restaurant that has great food, friendly service and beautiful views. So our expectations were high.
Abu Dhabi's branch is the brand's third, after outlets in Santa Monica and Sunset Boulevard. The idea was to modernise the American steakhouse concept — and Boa is definitely modern. Inside, you'll find cream leather and mahogany furniture interrupted by semi-circular silver structures that encase round booths. The long terrace, which features white wicker furniture and burnt orange umbrellas, is great for enjoying the last of the cool nights while looking out over the mangroves.
Although it's theoretically an American steakhouse, the flavours on the menu are quite international. I started with goat's cheese baklava – layers of flaky pastry and creamy cheese topped with chopped pistachios and honey. My guest chose the pan-seared scallops, which came with sweet cauliflower puree and a capsicum couscous. On request, the chef whipped up an al dente asparagus risotto for my main course, which was topped with black truffle shavings — a good sign, that non meat-eaters can also be catered for. My guest's Australian master kobe was a beautifully cooked 225g striploin that was served only with a bulb of roasted garlic and his chosen sauce — Béarnaise. Beware of side portions as they are almost big enough to be considered a meal themselves — but if you can handle it, go for the crab and black truffle gnocchi. And save room for dessert. The s'more 5.0 — a disassembled version of the camping favourite that brought back childhood memories — turned out to be a rich flourless chocolate cake served alongside homemade marshmallow fluff, milk chocolate ice cream and gluten-free graham crackers.
Throughout the meal the staff were friendly and knowledgeable while lounge beats perfectly soundtrack-ed the evening. We now see what the fuss is about — Boa ticks all the boxes.
If you want to go: Around Dhs 700 for two, without drinks. Call 02-6411500.
Best for: Date night