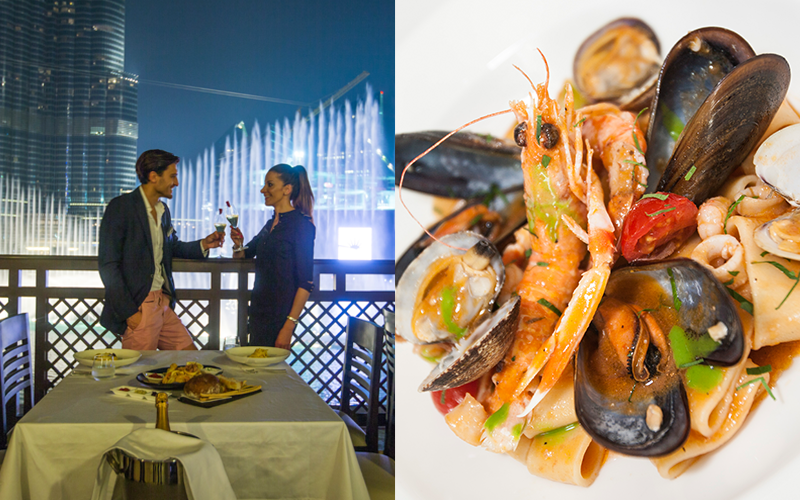 What's the concept?
This fine-dining Italian restaurant has been situated on the same spot in Souk Al Bahar for nearly a decade. Part of the global BiCE brand, the restaurant specialises in seafood. Head chef Leonardo is from Italy and brings warmth, charm and spectacular Italian cooking to the restaurant. He has been at BiCE Mare since the restaurant launched in 2009.
What's the food like?
For starter try the "shellfish royale" between two. It comes with a tasty mix of king crab, lobster, king prawns, oysters and mussels and served with a spicy cocktail sauce and herbs. All pastas are freshly made on site, and come with a gluten-free option. A must-try dish is the deliciously cheesy "bottoncini alla parmigiana, su fonduta di provolone del Moaco" (eggplant and parmesan ravioli, with Monaco cheese fondue). For a less heavy pasta course, try the "calamarata alla pescatora" (a fresh tomato-based shellfish pasta dish). The restaurant offers both fish and meat dishes for main course – but as seafood is the restaurant's speciality – we recommend you stick with the fish menu. The "filetto di toothfish, giardino di verdure al carboneis" ( pan-fried toothfish fillet with vegetables) is delicious as is the "ricciola al fumo, friarielli di campo e salsa al peperoni arrostiti" (smoked and chargrilled marinated king fish, wild broccoli and red capsicum sauce).
How was the service?
The team at BiCE Mare are incredibly welcoming, with chef Leonardo often coming out of the kitchen to check on guests dining experience and to discuss the menu. Many of the waiting staff hail from different parts of Italy, and are comfortable discussing the nuances of the different menus.
What's the atmosphere like?
Popular with the well-heeled Downtown Dubai crowds, the best seats can be found outside on the restaurant's terrace during the Winter months. With views of the Burj Khalifa and lake, It's a great place to go for a special occasion. The outdoor area also offers front row seats to the theatrical Dubai Fountains show throughout the restaurant's opening hours.
Details: for more information visit BiCE Mare. If you enjoyed this article, you may like this story on 15 new foodie things to try this Winter.