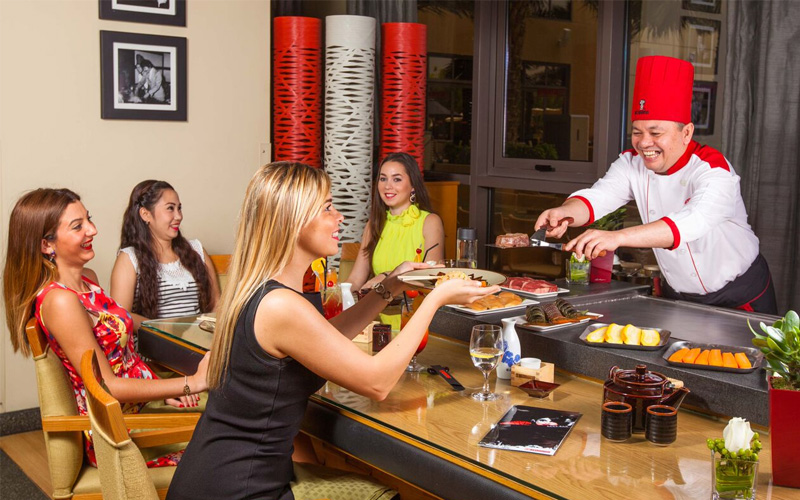 What's the concept?
Benihana is famous for being the first restaurant to bring Teppanyaki-style cooking to the US. The flagship restaurant was set up in New York during the sixties by the charismatic Japanese-American boxer Hiroaki Aoki, who liked to hang up pictures in the restaurant of himself with celebrity friends who came to Benihana. The mid-range chain has now expanded to 116 restaurants worldwide; BBC Good Food Middle East visited the branch based in the Amwaj Rotana hotel in JLT.
What are the food highlights?
There's a wide range of sushi available, standout rolls were the 'ambe special roll' (a tempura fried roll with spicy tuna, spring onion, asparagus and spicy Japanese mayonnaise-unagi sauce), the 'hanaru maki' (fresh raw tuna, salmon, flying fish roe, asparagus and mango purée) and the 'unagi' (broiled water eel in spicy Japanese mayonnaise-unagi sauce). For mains, the Teppanyaki beef, chicken and salmon were all cooked perfectly.
How was the service?
All of the staff were on the ball and quick to serve to the table. It's worth booking one of the restaurant's many Teppanyaki stations. The restaurant chain is famous for their Teppanyaki chefs' slapstick humour and theatrics. Expect plenty of fire, food juggling and the chef throwing out pieces of fish and meat for you to catch with your mouth.
What's the atmosphere like?
BBC Good Food Middle East visited mid-week and the restaurant was pleasantly busy. Expect a modern Japanese monochrome interior, plenty of live cooking and images adorning the walls of Hiroaki Aoki with celebrities from the New York venue. Space and weather permitting, it's worth taking dessert outside, the restaurant has a great terrace area.
Details: Dinner for two costs around AED 500. Address: Benihana, level two, Amwaj Rotana, The Walk, JBR, Dubai, UAE. For more information click here.