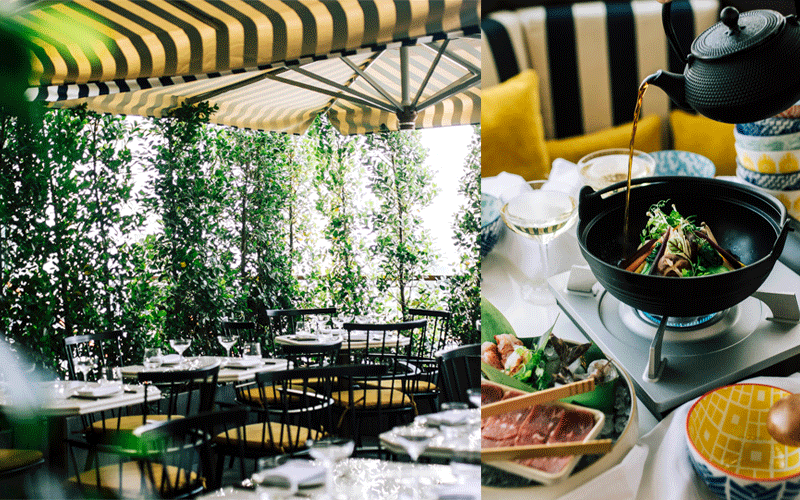 What's the concept?
In a city that sees restaurant openings every two-minutes, it can be a struggle to stand out from the crowd – but not for BB. This brand new social eatery and bar recently opened doors with a bold, quirky and unforgettable personality – the type you can't help but want to get to know.
BB is the baby of a founding team backed by more than six decades of hospitality expertise, with chef Alex Stumpf at the kitchen's helm (most recently of Peyote), and his wife/restauranteur Shabnum Stumpf and Spero Panagakis (both formerly of Zuma) overseeing everything outside of the kitchen.
From the moment of entering BB, you're hit with a wave of infectious charm and character. Housed in a space previously occupied by an art gallery, BB is set across three floors (although it feels like there's more), which sprawl both indoor and outdoor. Think spiraling staircase, nooks and crannies, cosy booths, a cool counter overlooking the kitchen, terracotta pots filled with abundant greenery, and mustard coloured upholstery paired with black and white stripes.
What are the food highlights?
BB's menu draws inspiration from the east and is split into five 'B' sections: Baos, Bites, Bowls, BBQ and Bubbles. In line with its 'social dining' identity, all dishes on the menu are designed with sharing in mind, using only the freshest of ingredients – all at accessible prices. Our experience began with little bites of cauliflower popcorn, a gorgeous green hummous that combined edamame, tahini and spinach, and one of my favourite dishes of the night, crispy Brussel sprouts, which were absolutely divine and incredibly moorish. I'm not one for choosing vegetarian dishes when dining out, but the veggie-based dishes here really hold their own against the meat and fish dishes. My next favourite, also vegetarian dish came next in the form of a bao stuffed with braised jackfruit – pure magic and offering so much flavour – reminding me slightly of an onionbhaji. I never would have guessed that it was jackfruit, with its stunning savoury flavour. The soft-shell crab bao was equally delicious, and comes served with its claws playfully peeking out of the bun.
For an interactive experience, I'd highly recommend the DIY Shabu Shabu. With a hot-pot set upon your table, the dish is served with a selection of cooking vegetables like mushrooms, heirloom baby carrots, baby corn, pak choy in a hot soy broth, plus a platter of dolma, raw wagyu beef, lobster and prawn with tweezers for you to cook to your preference in the pot. From the main bites, the slow-cooked Iberico lamb skewers were incredibly succulent and tasty, served with pickled cucumber ribbons. For dessert, the 'baonut' is a must – bao meets doughnut, served with the most delicious strawberry jam and cream.
How was the service?
Service and hospitality here is warm and welcoming. You're made to feel at home and like an old friend of the team. Our server, Kingley, knew the menu inside out, offered service with a smile and was always on hand to assist without being intrusive.
The bottom line:
Despite BB only opening recently, I feel like it's been here for years. It boasts an unbelievable amount of character, and is most definitely something totally unique on Dubai's food scene.It was refreshing to see so much well-executed creativity behind a concept, and a menu offering something from the norm.
Details: Around AED 180 per person for a great selection of dishes. Call 04-407444 or e-mail hello@thisisbb.com.