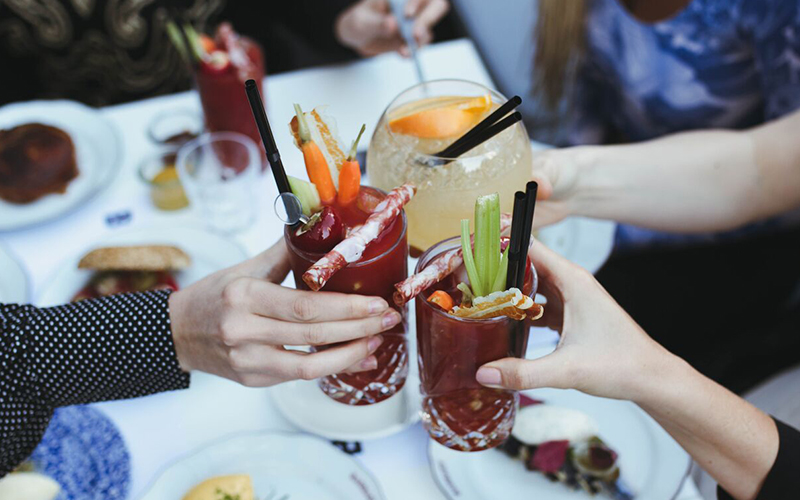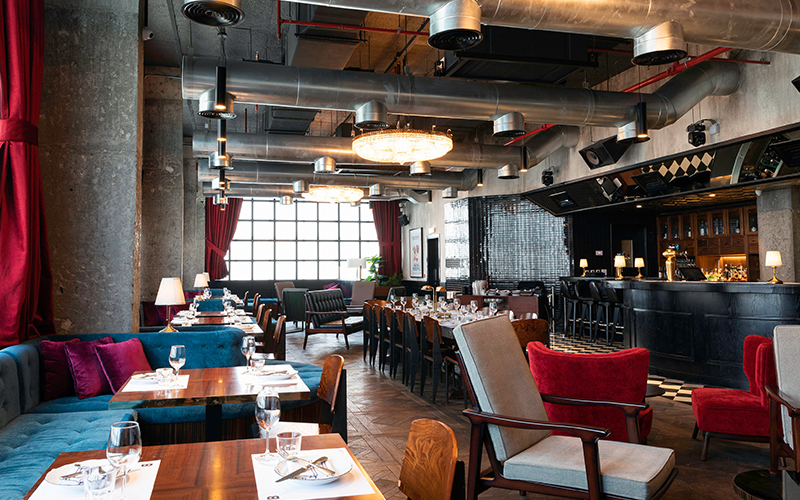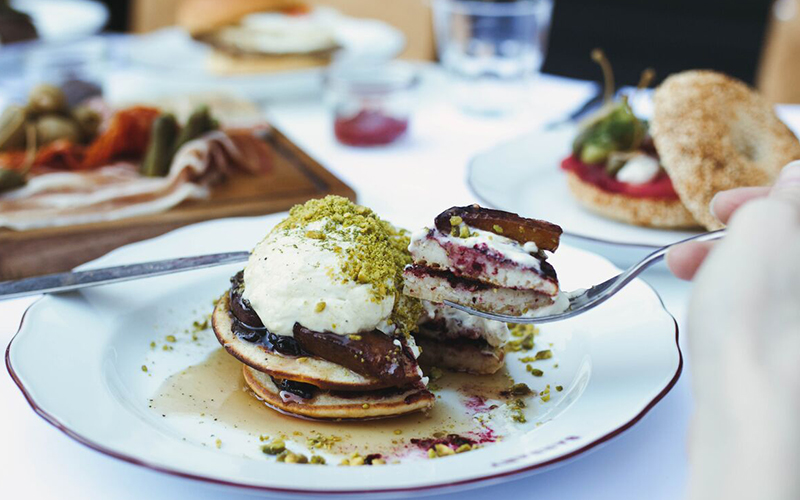 What's it like?
Tucked away in Barsha Heights, Barbary Deli + Cocktail Club brings upbeat, awesome vibes to the neighbourhood. The man behind JBR's brilliant seafood-led restaurant, The Maine Oyster Bar & Grill, Joey Ghazal, clearly has a knack for creating unique, cool venues, as Barbary is equally as successful.
Barbary exudes a retro, chic atmosphere and has distinct, sultry décor. Inside there's wooden floorboards, black and white checkered tiles, plush blue and red velvet chairs with brown leather back furnishings, chandeliers and dimly lit lampshades on the table, all inspired by the speakeasies operating in Paris during the 1930s.
Although evenings start off quiet at Barbary, as the night progresses a DJ takes centerstage at the front of the club, playing live sets covering everything from house, disco and RnB.
What are the food highlights?
The 24-hour veal short rib bites are a great option to start with – they're served in perfect little bite-size pieces topped with gherkins and shaved parmesan, and each individually pack so much flavour. Be sure to visit Barbary on your cheat day, as the Babybel croquettes are a dream (why we don't see more deep-fried Babybel's on menus more often, I don't know – they are so delicious!) – this dish is ideal for sharing. It may not be your first choice, but give the artichoke hearts a try, they come served with tarama dip and really surprised me with how good they were. If you're feeling naughty, opt for a dish of poutine, the traditional Quebecois dish of fries, cheese curds and gravy.
For mains, the roast half chicken is succulent and moist, while the beef tenderloin is cooked to a perfect medium-rare temperature and is served with mixed pickles and creamy gratin dauphinoise.
The salted caramel popcorn cheesecake for dessert keeps things light and rounds off the meal wonderfully.
How was the service?
The front of house team at Barbary are young, upbeat and welcoming. Considering how busy the place gets, they're always on hand to make sure that your drink never runs dry.
The bottom line:
Barbary is certainly one of the coolest spots in town right now. Weekly, the venue runs a series of events including 'Je t'aime Tuesdays', which brings together women to socialise, enjoy unlimited free beverages from 8pm to 12am, dance and enjoy a bit of girl time. There's 'Hotel Amour Thursdays', 'Disco Pink Fridays', and 'The Brunch Affair' that takes place every Friday and Saturday from 12pm – 5pm, priced at Dhs299 per person for a la carte brunch with unlimited house beverages.
The venue also has a great outdoor terrace which is perfect for the incoming cooler weather.
Want to go? Priced at around Dhs160 for three-courses without beverages, Barbary really offers value for money. For more information or reservations, call +971 04 247 6688, e-mail info@barbary.ae or visit barbary.ae.
If you enjoyed this article, you may be interested in reading more of our online reviews here.