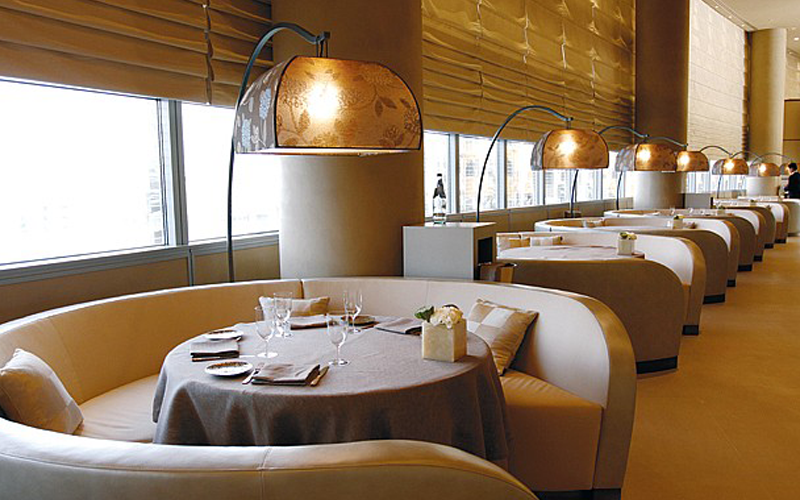 What's the concept?
The slick modernist interior of the Armani hotel's signature Italian restaurant feels like stepping into a scene from a mid-20th century Italian art house film (expect high ceilings, curved interior patterns and cream fabrics). There are views of the open plan kitchen from all tables in the restaurant, and some of the best views of the Burj Khalifa in Dubai for those who choose to sit outside. Inside, there's a live singer crooning a mix of 1950s classics and modern blues songs.
What are the food highlights?
Faithful to traditional Italian ingredients, the menu includes a delicious 'burrata tartufo' (burrata cheese, artichoke,rocket, parmesan and truffle salad) and a 'gnocchi castelmangno' (potato gnocchi, castlemango fondu and beetroot extract). Stand out mains were the 'capesante' (seared scallops, pumpkin puree, sautéed mushrooms and truffle) and the 'tagliata' (Italian-style grilled beef cubes with vegetables and mash) There are both four and six course tasting menus available, if you chose the latter be sure to arrive hungry – the portion sizes are on the larger side for a dégustation menu.
How is the service?
Expect the 5-star service that's associated with the Armani brand. The restaurant team know the different menus well, and the drinks expert can easily recommend beverages to accompany the different dishes.
What is the atmosphere like?
Mid-week when BBC Good Food Middle East visited, the restaurant was pleasantly busy. Popular with the well-heeled Downtown crowd, be sure to book in advance of your visit. The price point and the spectacular location mean that it's great for a celebratory meal or for when guests are in town.
Until 16 April the restaurant will be serving a Easter degustation menu with prices starting at AED 320 per person for the sharing menu, and AED 630 per person for the fine dining degustation menu excluding drinks. For more information, visit Armani/Restorante.