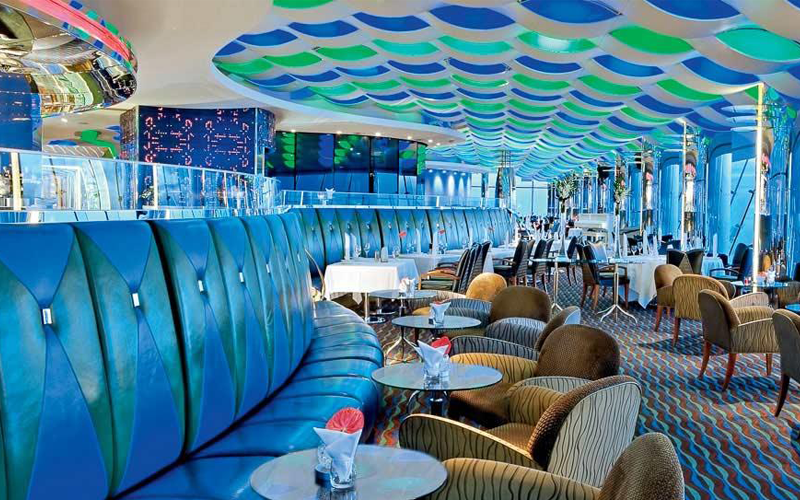 What's the concept?
Situated on the 27th floor of one of Dubai's most iconic buildings – the Burj Al Arab – afternoon tea at Skyview bar is a decadent affair. Like everything at the Burj al Arab, there's a focus on extravagance: there's a harpist, premium French bubbly and panoramic views of the Arabian gulf and Dubai's city coastline.
Food highlights?
Diners can expect an extensive tea menu and a narrative explaining the history of afternoon tea and its significance to high society in Britain (it started in the 1840s when the seventh duchess of Bedford, Anna, decided she would like an indulgent meal around the hour of 4pm). At Skyview bar, there's a set afternoon tea menu, with several courses, including beef, smoked salmon and cheese sandwiches, and patisseries served on attractive traditional tea stands.
How was the service?
The lead up to the restaurant can feel a little like you a queueing in line for a theme park attraction. Be sure to arrive plenty of time in advance of your booking, as you will likely spend the first part of your visit waiting on the ground floor in a holding pen by the lifts for 15-30 minutes. The restaurant has a strict dress code (women smart casual dress or skirt with formal top, whereas men must wear full length trousers and collared shirt, or national dress) and those who fail to adhere to have to borrow clothes from the hotel. Once you have passed the several levels of security to get into the restaurant, the service is great, and the staff know the menu well and are incredibly attentive.
What's the atmosphere like?
The best seats are those by the floor to ceiling windows which circle around one half of the restaurant, be warned however– if you don't have a seat by the window the staff will not let you near them even for photographs as not to disturb the other guests. When BBC Good Food Middle East visited, the restaurant was at full capacity so be sure to book plenty of time in advance. Overall, the restaurant is a great place to bring guests visiting Dubai or for a special occasion, but is probably not somewhere you will bother with on your average Friday or Saturday.
Details: Prices start at AED 620. For more information visit Skyview bar.