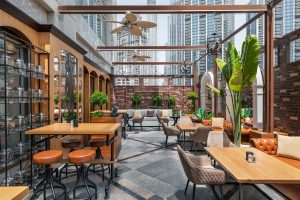 Infuse your weekend with a nostalgic twist from the 80s and 90s at The Eloquent Elephant's Saturday brunch. Delight in a sumptuous three-course set menu brimming with an assortment of timeless British culinary delights, complete with signature beverages. Tuck into an extensive selection of contemporary British dishes and global delicacies, including the iconic Pie-n-mash and Fish-n-chips. End your culinary journey with Sticky toffee pudding or the Baked s'mores brownie.
Join our exciting video competition as we challenge you to take on our Cajun chicken pasta recipe. Show off your cooking skills and put your unique twist on this delectable dish. Submit your video before September 25th for a chance to win!
Cook and record: Roll up your sleeves and whip up the recipe in your kitchen. As you cook, make sure to capture the process. Kindly ensure the below criteria are followed:
Video must be from one-four minutes in length
Video resolution needs to be HDTV resolution, 1080p (1920×1080 pixels, 16:9 aspect ratio).
Video must be in one of the following formats: AVI, WMB, MOV, or MP4 format (MP4 and MOV format preferred)
Video must be an original work of the contestants.
Videos should not use copyrighted material without permission.
Showcase your creation: In the video, give us a glimpse of your cooking prowess. Share your cooking tips, tricks, and techniques that you employed while recreating the recipe.
Upload and share: Once your video is ready, upload it via a Dropbox/Google Drive link.
Enter the competition: Fill in your details along with the URL link of the video to your entry.
Await the results: Our panel of judges will carefully review each entry, considering creativity, presentation, and adherence to the original recipe.