Debuting not only as the first in the Middle East, but in the world, Enigma at Palazzo Versace Dubai is a new avant-garde restaurant that will mesmerisingly change its dining concept and chef four times a year. First to take the reins is Spain's chef Quique Dacosta, who boasts a three Michelin-starred restaurant in Denia, ranking 39th on the World's 50 Best Restaurant list.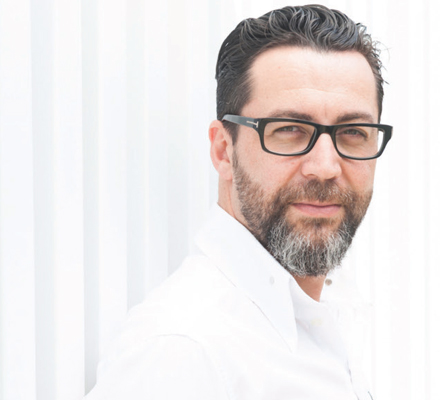 Really hitting the nail on the head, the name couldn't be more spot on. Enigma is a restaurant that successfully tells an untold story to its diners – taking them on a multi-sensory journey with each course delivered. There's no menu at Enigma and the dining experience is served one pleasant surprise after another.
This restaurant is for the curious, slightly adventurous food lovers among us (so don't come expecting to tuck into steak and chips), and does a fantastic job of creating different chapters that showcase chef Quique's unique story and gastronomic vision.
Until April 12, the Spanish chef's 'vanguard' themed concept will be available six nights a week from 6:30pm to 10:30pm, before the next chef – also selected from the World's 50 Best Restaurant list – takes the helm. Enigma acts as a blank canvas for chefs to come in and deliver their stories how they wish, and this is exactly what Quique has done.
Avant-garde chef Quique is completely self-taught and really knows how to convey attention to detail in his food – each dish amasterpiece in itself. Bringing the dining room – which is designed in a very minimalistic way – to life, he puts on an interactive culinary show to remember, through flavour, texture, presentation and unique imagination.
"It is incredible to bring my cuisine to other parts of the world. I'm thrilled to make my mark in Dubai under Palazzo Versace and I hope that diners enjoy Enigma and my culinary selection, which has deep Mediterranean roots and avant-garde influences, as much as I will enjoy the experience," he says.
Here's a little bit more of what chef Quique had to say…..
So, where did you find your passion for cooking?
Simply in the kitchen, spending hours in it cooking, getting my hands on products, and preparing food. Nothing excites me more than creating new dishes and learning everything there is to know about being a good chef.
What took you down the avantgarde route in the kitchen?
Well, as a self-taught chef like me who has to imagine steps for preparing dishes that can't be found in cookbooks, I found it fascinating that you could start a new recipe by being completely intuitive and by using very different methods of preparation, that's where it all began.
What's your take on the Middle East's culinary scene?
I can't rate it because it wouldn't be fair. I'm new here, but I see enormous enthusiasm around me and believe many great things are possible here. However, I think Dubai is a really special place for great gourmet restaurants.
For diners visiting Enigma, what can they expect?
The Palazzo Versace has created a unique, distinct atmosphere. What I can tell you is that I'll give it all that I have, and share my passion and mycooking techniques. We've created a delightful experience that everybody seems to enjoy so far.
Where did your inspiration for creating the tasting menu at Enigma come from?
Well, I was given a blank slate and was able to do whatever I wanted. So, with that in mind I focused on two main things: guest satisfaction, and remaining true to my roots.
What's your advice to diners who have yet to experience Enigma?
I recommend that you come with an appetite, while keeping an open mind during the experience.
For home cooks looking to get innovative, what's a starters technique to begin with?
The art of technique is all about developing a humble attitude towards creativity in the kitchen. Innovation is the combination of a number of elements. You should be eager to learn, ready to work hard, have a knack for cooking and show a simple, gentle character. All