He's one of the UK's favoured TV personalities – notably as host on Channel 4's 'Sunday Brunch', the best-selling author of 'Seasoned Vegetarian' and 'Lazy Brunch', and the culinary genius behind Pier 7's 'The Scene' on Dubai Marina. Chef Simon Rimmer sits down for a cuppa and a catch up with us during his recent trip to Dubai.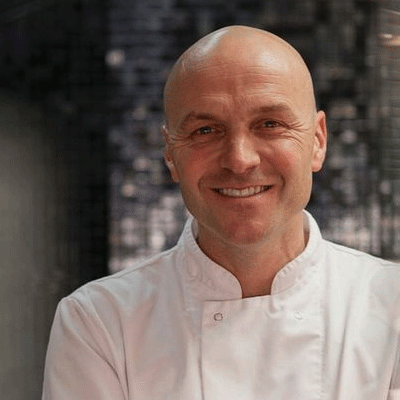 Known for pioneering work with vegetarian food at his Manchester restaurant 'Greens', Simon set out to change people's attitudes towards veggie-friendly food in the early 90s – and has done just that. Believe it or not, he's actually a meat-eater – however, enjoys the challenge of cooking with vegetables and strives to create and innovate with the ingredients. Since the opening of his first Dubai outlet, The Scene in 2014, Simon's popularity in the Emirate has flourished – gaining him an outstanding reputation for creating a retro-cool, eclectic eatery with contemporary British comfort food – let's just say it's a place you very rarely see empty! Think East London and downtown New York. It's a laid-back place to chill with a menu sure to please. Following the success of The Scene – Simon talks plans of launching a second….
At what age did you realise you were destined to be in the kitchen?
I was 27 – this was when I bought my first restaurant and taught myself to cook! Before that I'd worked only front of house, but fell in love with cooking from first day.
You're quite an advocate of vegetarian-friendly food – what took you down that route?
Greens already existed as a veg café, so it made sense to continue. The creative process behind great veggie food is huge! Think about it – you can buy a great piece of aged steak, cook it and put it on a plate, job done, but you can't do the same thing with an aubergine. You have to flex your creative muscles with pretty much every ingredient when it comes to vegetables – and I love that!
What attracted you to launch The Scene in Dubai?
I'd been approached on 4 separate occasions about doing a project in Dubai, but all of them were for fine dining in luxury hotels here, and that's not my world. When I was confronted with the vision for The Scene it had me instantly excited and I was in!
Can we expect to see any other culinary ventures from you in the region?
We're actually looking to maybe launch another The Scene. Watch this space…..
For our foodies that still have yet to try out The Scene – what are they missing out on? What are the menu must-try dishes that you'd recommend?
The Scene is the best goddamn local restaurant in Dubai. We're an irresistible force once you've been. A night out with friends? A night out with other half? Sunday Lunch?
"We're actually looking to maybe launch another branch of The Scene. Watch this space…."
Valentine's, Christmas, Mothers' Day? We are the place to be, catering to all, no matter the occasion. In terms of must-try dishes, you have to try the chicken kiev, feta pie, sausage roll and eggs benedict fries
When you're in Dubai – where are your favourite spots to dine out?
I love The Maine Oyster Bar & Grill, Marina Social by Jason Atherton, and Rang Mahal at JW Marriott Marquis.
Where do you find your culinary inspiration when writing new recipes?
I write recipes every day, I'm like a magpie – I see something shiny and pretty and I want to use it. I'm like a kid in a sweet shop – ingredients and seasons never disappoint, I'm always experimenting.
What five ingredients can always be found in your home kitchen?
Vanilla, chilli, salt, curry powder, and eggs.
As a father yourself – what would be your advice on getting kids involved in the kitchen and interested in good food from an early age?
Bombard your kids with tastes, flavours and food as soon as you can. Kids love starting with a selection of ingredients and ending up with something to eat – a bit like chefs, who are fundamentally kids that never grow up!
Tell us about your passions outside of the kitchen? I have to ask, being a Liverpool FC fan myself, but we hear football is one on them!
Absolutely, I love my football, Liverpool Football Club is just behind my family and cooking – I'm a big fan! After that I love to run, read crime novels, like Lee Child, Michael Connely, Mark Billingham. I love art – Paula Rego, Chagall, Jacki Tsau. I'm patron at The Prince's Trust – a youth charity that helps young people aged 13 to 30 get into jobs, education and training – Brainwave, and Francis House – basically a lot of charities that relate to helping kids and young people.