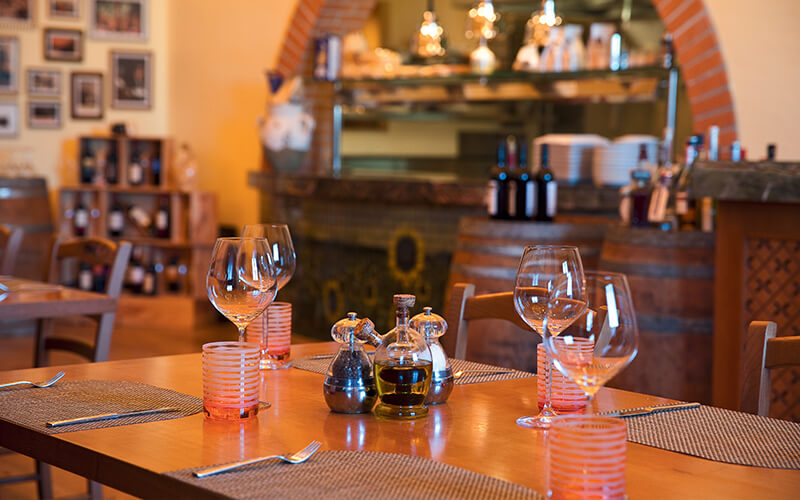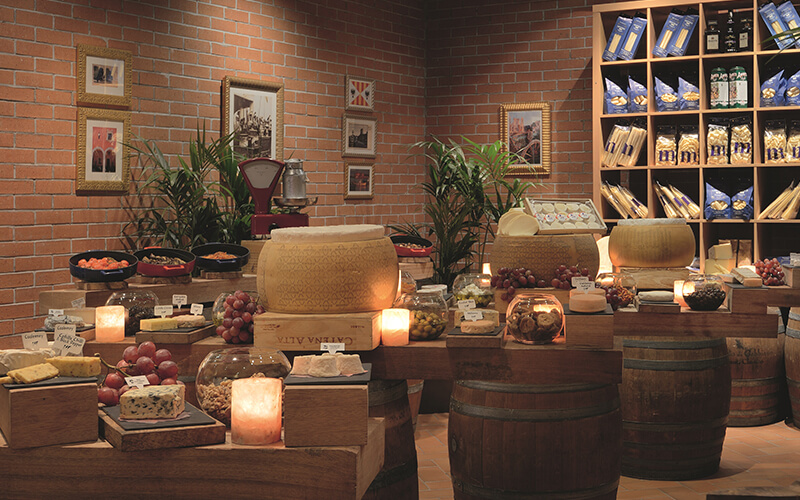 Reviewed by Giorgia Guantario. 
What's it like? Tucked on the side of the Movenpick Ibn Battuta Gate's enormous atrium, Sicilia is a small and cosy Italian restaurant serving traditional food from the Mediterranean peninsula. The restaurant is unpretentious and quite 'old-school' in its décor, reminding us of a high-end typical Italian trattoria with its big wine barrels and wooden features. Our table has a full view of the open kitchen, and we are delighted to be able to admire Sicilia's culinary team at work. The venue is slightly too bright for our liking, nonetheless the atmosphere is relaxing, with Italian music filling the air.
What are the food highlights? It is fair to say that being born and raised in Rome, I tend to avoid going to Italian restaurants abroad. However, a look at the menu is enough to dispel any concern I had – with an extensive selection of starters, fresh and air-dried pasta, and mouth-watering traditional mains, Sicilia's menu features home-style cooking with some of the best products coming directly from Italy's southern island.
They say the best always comes last, but in this case, the highlight of the evening comes in the form of our first starter – a tartare of red prawns from Mazara, one of the Mediterranea sea's most precious treasures. Chef de Cuisine Raffaele Andreozzi has given a twist to this lavish ingredient by serving the prawn tartare with bitesize burrata and an unexpected, yet delicious, orange sauce. We also enjoy a very traditional mussels sauté, which in our opinion could do with a little more spice and crunchier bread.
Pork eaters will be delighted to enjoy Sicilia's hand-cut Parma ham, which we were able to enjoy with bits of fried pizza dough and home-made sundried tomatoes.
Upon discovering Chef Andreozzi's Genoese origin, we couldn't wait to try the pesto trofie with beans and potatoes, and they don't disappoint. The pesto is creamy and flavourful, making it one of the best we've ever tried, and the small bits of potatoes add a nice consistency to the dish. Our second choice, the pansotti (a large triangular-shaped ravioli) filled with spinach and field nettles, and smothered in a creamy walnut sauce, are just as delicious, although a much richer and filling dish than the trofie.
For our main course, we opt for the marinated and breaded lamb cutlets, and the Sicilian baccala'. Whilst we appreciate the creativity of the lamb cutlets in three different breaded crusts, the baccala', traditional slow-cooked codfish, is definitely our favourite. Baccala' is a staple of Italian cuisine, and Chef Andreozzi does it justice by presenting a very traditional rendition featuring fresh tomato, olives and capers, with the nice addition of fried polenta bites.
To finish off, we enjoy the traditional Neapolitan baba', an oven-baked yeast cake soaked in alcohol, usually rum or limoncello. Baba' are traditionally overly sweet (in Naples they even say "tu si nu baba'", you are a baba', to describe a sweet person), which is why we'd suggest sharing this dessert. Our second choice is the affogato – a scoop of vanilla gelato resting on a bed of amaretto biscuits and black cherries, "drowned" with a shot of hot espresso. The dessert is packed with flavours, with the bitterness and warmth of the espresso counterbalanced by the sweetness of the cherries and coolness of the gelato.
How was the service? The service at Sicilia is impeccable – the staff are well versed in Italian cuisine, taking the time to explain each dish to non-Italian speaking guests, and are always on-hand throughout the evening.
The bottom line: Sicilia offers a laid-back and traditional Italian dining experience. Chef Andreozzi knows how to respect and enhance some of the best products the Italian peninsula has to offer, delivering simple, yet delicious home-style cooking. Open at lunch from Saturdays to Thursday between 12:15pm and 2:45pm, and daily at dinner from 7pm to 11pm, Sicilia is the perfect place to enjoy authentic Italian food.
Details: For reservations, call 04 444 5613 or visit the website for more information.