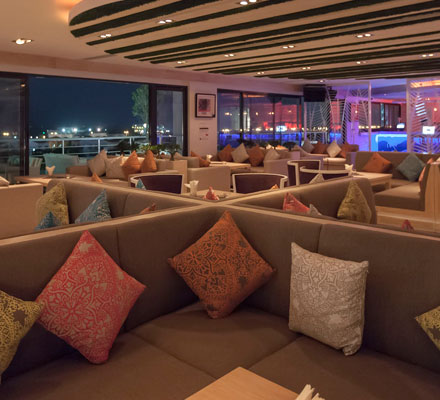 Every place has a story, and here it's told through striking art pieces, colourful free-hand wall paintings by a Spanish artist, and a menu bursting with modern Peruvian specialties, teamed with stunning views of the Palm Island in the distance. The relaxed venue boasts large couch seating with wooden tables indoors, and has two terraces — one with a bar and DJ, and another quieter one that's ideal for a relaxed gathering.
The concise menu features authentic street-food style Peruvian dishes that are perfect for sharing, while sipping on exotic cocktails. Ceviche was obviously something we had to try, and so my dining partner and I chose the ceviche mixto, a juicy bowl of shrimp, tuna, and scallops cured with melon and lemon juice — each bite was a beautifully tuned orchestra of tangy, fruity flavours. The Causo Anticuchera, a layered ceviche with mashed avocado, sweet potato and aji amarillo potatoes, topped with prawn skewers, was mushy and went down easily with the sweet sauce drizzled all over. Craving something hot to beat the chill — we were sitting outdoors — we chose the melt-in-your-mouth moreish chicken croquetas with a tangy melon and chilli salsa, which was crisp on the outside and soft inside. We also ordered meaty grilled lemongrass-flavoured scallops with a bed of crunch roasted potatoes and thyme, and a comforting bowl of creamy saffron risotto topped with tender beef tenderloin, which my dining partner polished off very quickly. With everything tasting so good so far, we were sure the Dulce de Leche fondant was going to be as well. We were right! The gooey dulce de leche oozed out of the cake, and the condensed milk-like taste and texture lingered around our palate beautifully, pairing well with the sweet caramel quinoa and banana ice cream it came with.
If you want to go: Around Dhs250 for two, without drinks. Call 055-7730010.
Best for:After-work catch-up