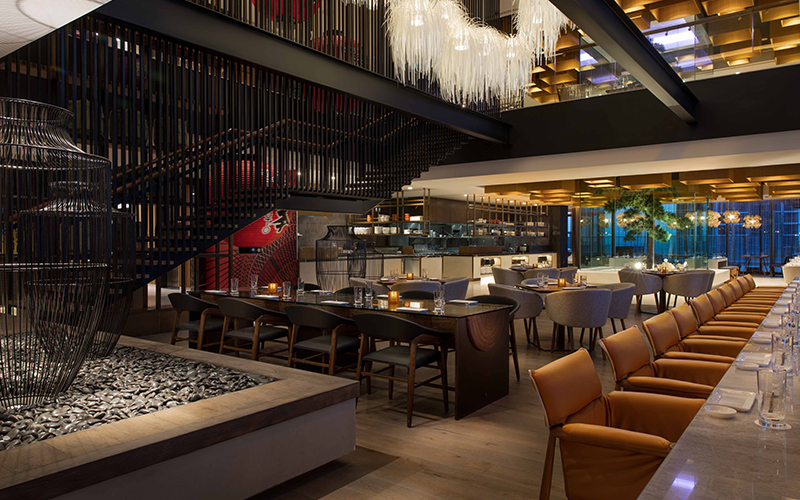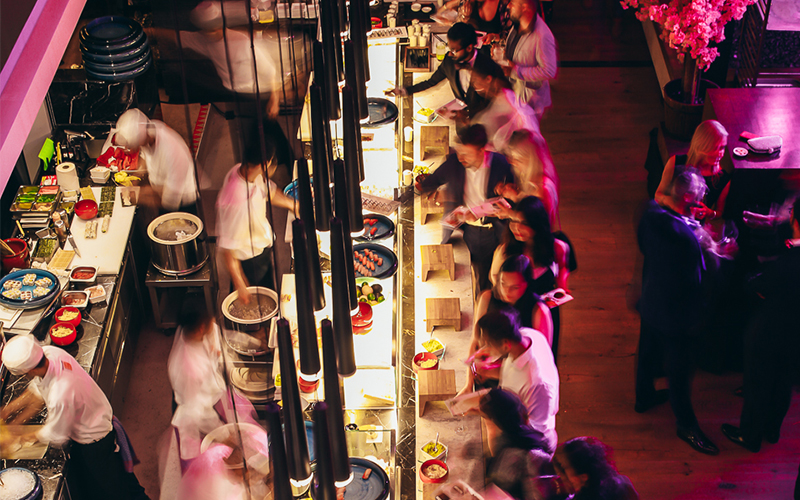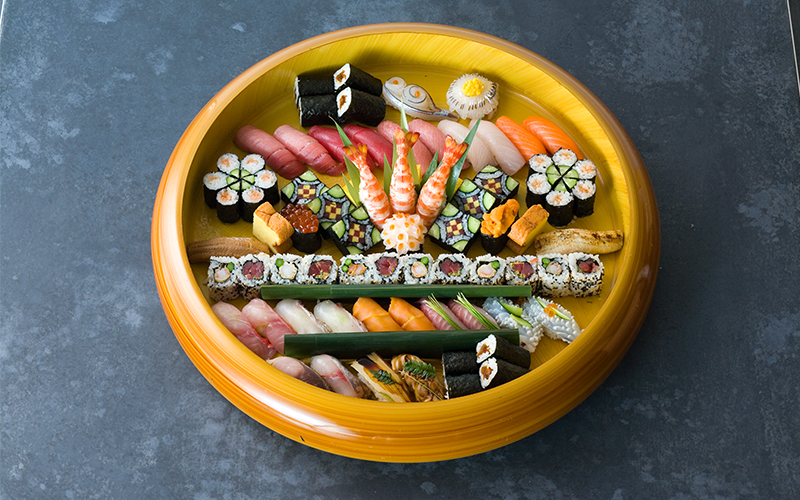 What's it like?
Located on the 23rd and 24th floors of Renaissance Downtown Hotel in Business Bay, Morimoto Dubai opened its doors earlier this year. With a few months of settling in under its belt, the modern Japanese restaurant has now launched a weekly Friday brunch, which takes place from 12.30pm to 4pm – and it's certainly one to check out!
Morimoto Dubai is the restaurant of famed chef Masaharu Morimoto – known to many as the star of Iron Chef and Iron Chef America. The accomplished chef who came from beginnings at the original Nobu in New York, has restaurants worldwide in destinations like Las Vegas, Honolulu, Tokyo, Mumbai and more.
Inside, the expansive venue comprises a restaurant, lounge, bar and terrace, all of which offer the most magnificent views over Burj Khalifa. Entry is via a separate, roadside entrance to the hotel's main lobby and once inside, the vibe is cool, stylish and upbeat, with distinctive Japanese design and artwork mixed with contemporary architecture.
With gorgeous floor-to-ceiling windows, the space at Morimoto Dubai is glamourous and sets the scene for an all-round spot for a great day out, with the Friday brunch experience starting in the outlet's upstairs bar with welcome canapes and drinks, before guests are escorted downstairs for the main event.
What are the food highlights?
Once seated in the main dining room downstairs, the feasting begins. Morimoto's hybrid brunch combines both live cooking stations and a la carte dishes served to the table, with all options on offer covering a great range of Japanese classics, influenced by American flavour preferences.
To begin, we head to the sushi counter and as expected, the selection on offer is impressive with everything from tuna and salmon, to hamachi and prawns used in maki rolls, nigiri and as sashimi.
The made-to-order stations were a firm favourite, including a soba station, miso soup station and a chicken ramen station, which all allowed personalisation of dishes. Also from the selection of starters, find seafood gyoza, prawn tempura and tuna tacos.
Moving onto main course, guests are able to pick one dish per person from the a la carte menu which comprises the famed braised black cod in a ginger-soy reduction, crispy fish with a spicy tofu sauce, Hamachi teriyaki with yuzu pickled daikon, grilled wagyu steak in a sweet onion garlic jus, marinated half chicken, or the yellowtail buri bop.
A sharing style platter is served to the table for dessert, and included a gorgeous selection of freshly cut fruits plus small bites of tempting cakes including cheesecake with homemade ice creams.
How was the service?
The front of house team at Morimoto Dubai are full of energy, ensuring the Friday brunch vibe is upbeat and lively. They're friendly and attentive – ensuring all guests were well taken care of and had a great time. The team – chefs included – brought brunch to a close with a group dance, which encouraged brunchgoers to join in and end the experience on a high note.
The bottom line:
The vibe at Morimoto is alive and uplifting. It's a fun, chic venue that's ideal for visiting with a small group of friends for a Friday brunch that's all about high-quality food, fantastic service, a relaxing atmosphere and stunning Burj Khalifa/city views.
Details: Brunch packages start from AED 350 for food and soft drinks. For more information or to make a reservation, call 04-5125577 or see morimotodubai.com. If you enjoyed this article, you may be interested in reading more of our reviews here.